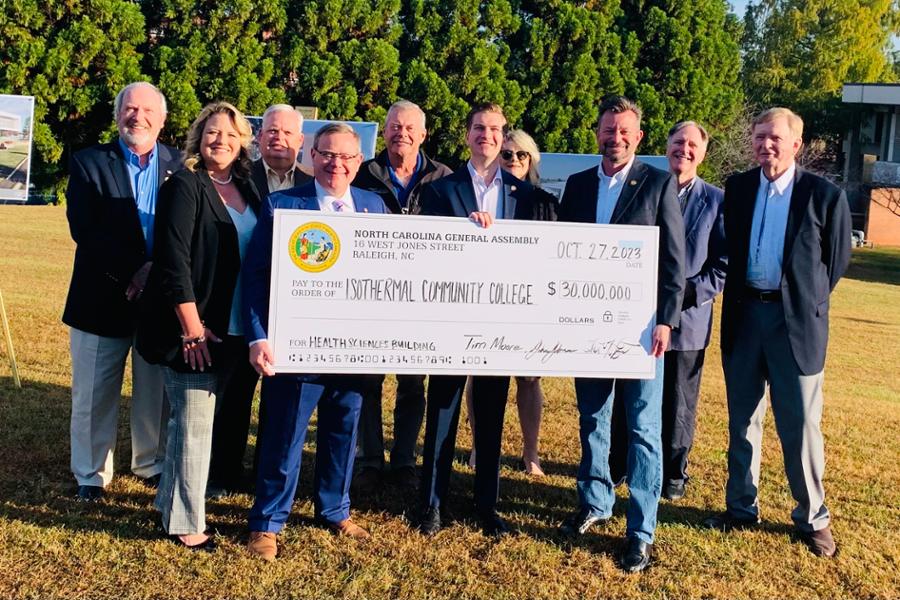 Lawmakers visit campus for check presentation 
By: Mike Gavin
Published: October 27, 2023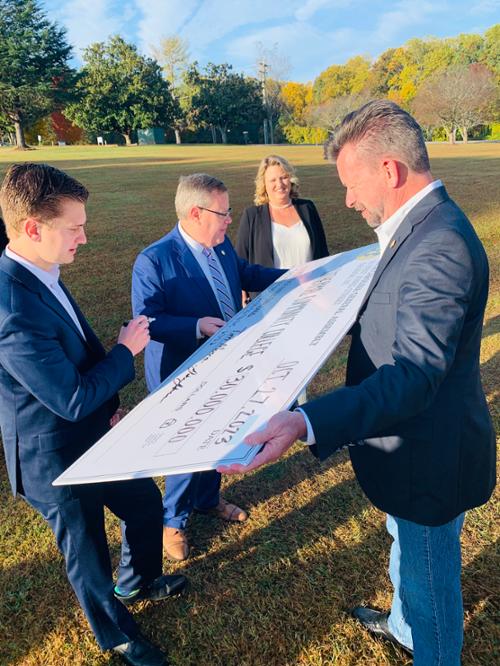 SPINDALE (Oct. 27, 2023) – Isothermal's state legislative delegation visited campus Friday to present a $30 million check for a new state-of-the-art health and sciences building. 
The North Carolina General Assembly made the appropriation last month when the 2023-24 biennial budget passed into law.  
Speaker Tim Moore (R-Cleveland), Sen. Tim Moffitt (R-Henderson), and Rep. Jake Johnson (R-Polk) signed and presented the check in a brief ceremony on the site where the facility will be constructed. 
"This $30 million appropriation to build this building is going to do a lot, not only for Isothermal, but for this entire region," said Moore. "We know there's a shortage of nurses, a shortage of so many in healthcare. So, we are proud of this and the support of the General Assembly and the leadership of the president and the trustees and faculty and staff in making this possible." 
President Margaret Annunziata thanked the lawmakers for their support as a group of college trustees, employees, and Foundation board members watched. 
"We are grateful for the very positive relationship that we have with our legislators," she said. "We are even more grateful that they share our vision in serving our students and communities through generous support of this project." 
Bids for architects are currently being reviewed. During that process, a specific timeline for the project will emerge. However, Annunziata says she hopes construction is complete during the 2025 academic year. 
The building will serve as a new home for ICC's nursing and allied health programs. The majority of those programs have been housed in the old 1950s-era Rutherfordton Elementary School, which Rutherford County Schools vacated in 2009. Initial plans put the building site inside the loop in the space next to the ICC Library and above the parking lot for the Administration Building.