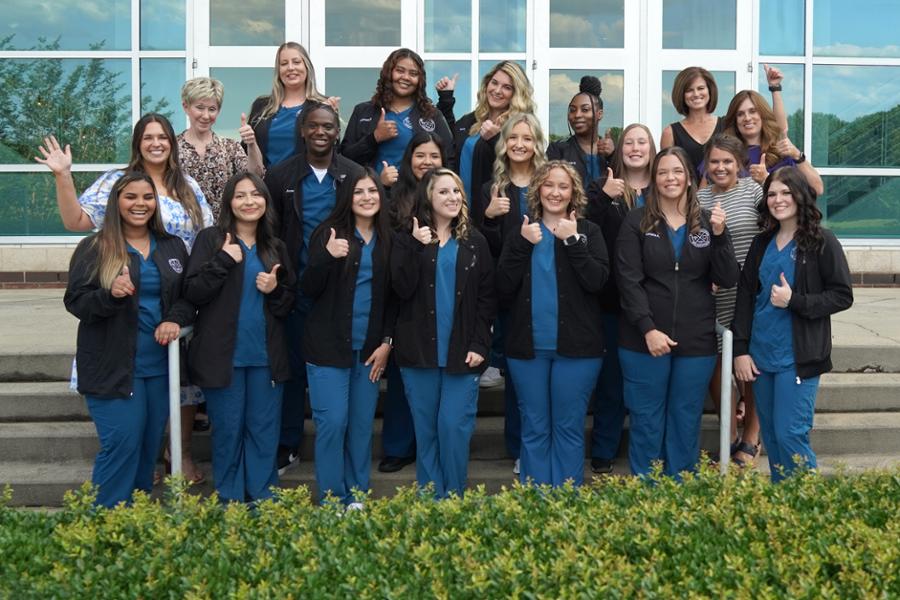 New dental assistants graduate 
By: Mike Gavin
Published: August 15, 2023
SPINDALE (Aug. 1, 2023) — The fourth class of the Dental Assisting program at Isothermal Community College graduated this week. 
A ceremony was held for the fifteen graduates at the Performing Arts and Conference Center on the Spindale Campus. 
The new graduates are Mikishia Akers, Chloe Allen, Ashton Armstrong, Dutchess Brown, Jayda Davis, Amarion Johnson, Marianella Juarez, Zoie Lankford, Yoshanda Moss, Michaela Parton, Jamie Phillips, Guadalupe Rivera, Vanessa Sorto, Haileigh Wexler, and Madilyn Wilson. 
After a welcome by Dr. Margaret Annunziata, Isothermal's president, the National Anthem was performed by Mandy Taylor. 
Madilyn Wilson, one of the students, addressed the graduates and their guests. 
Jamie Phillips was named Most Improved Dental Assistant (presented by Elizabeth Mace). Guadalupe Rivera was awarded the Dental Radiography All Star (presented by Erica Pressley). Mikishia Myers earned the Dental Materials All Star (presented by Dr. Deborah Marynak). Michaela Parton received recognition as Best All-Around Dental Assistant (presented by Melanie Bailey). 
Program director Stacey Jenkins, faculty member Melanie Bailey, and Ava Yamouti, ICC'sdean of Health and Public Services, presented the graduates with their pins, made several remarks, and led the class in the Dental Assistant Pledge. The group also watched a video of memories made during the past year. 
Graduate Amarion Johnson made closing remarks to the audience. 
Starting this fall, the dental assisting program will take place at Isothermal's main campus in some new classrooms, renovated specifically to accommodate the courses.  
Dental assisting is a great career choice that pays well and has great stability and demand. The program only takes one year to complete. Dental assisting involves helping a dentist in skilled four-handed dentistry and graduates find employment in various types of dental offices. 
For more information, contact the program's director, Stacey P. Jenkins, BSDH, RDH, CDA, at sjenkins@isothermal.edu or 828-395-4440.