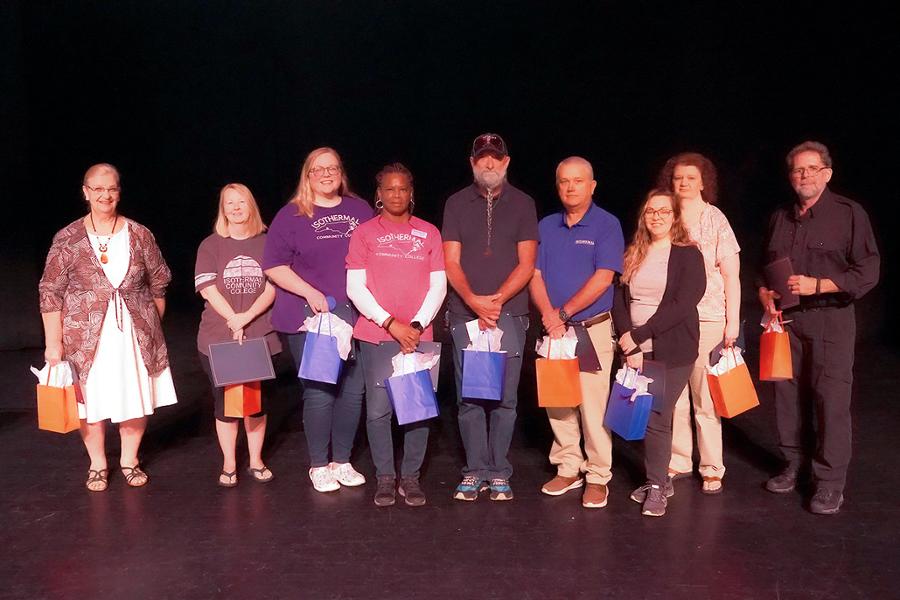 Awards Ceremony Highlights ICC Convocation
By: Mike Gavin
Published: August 22, 2023
SPINDALE (Aug. 22, 2023) – Eleven Isothermal Community College staff and faculty members were recognized this week for making outstanding contributions to the institution's learning environment.  
The Willard L. Lewis Staff Award, the Tanner Awards, and the Golden Apple Awards were presented this month when faculty and staff gathered for Convocation 2023 at the Performing Arts and Conference Center.  
The Golden Apple Awards, given since 2006, recognize college employees who "dedicate their time and talents to create a college environment where learning can flourish."  
The Golden Apple winners were Danielle Aley, Meghan Nevil, Pam Lowrance, Sheena Brackett, Jim Brink, Charles Ketterman, Steve Hollifield, Mark Carpenter, Nita Dale, and Nicole Dragan.   
Dr. Thad Harrill, Isothermal's chief development officer, presented the Tanner Awards. 
The Tanner family has been involved with Isothermal since the college's beginning. S.B. Tanner, Sr., was one of the early supporters of the effort to create the college. His son, the late Jimmy Tanner, was named to Isothermal's first Board of Trustees in 1964. He continued to serve as a trustee until 2007, distinguishing himself as the longest serving member in the history of that body.  
The Tanner Awards go to a faculty and staff member selected from the Golden Apple recipients. This year's Tanner Staff Award went to Mark Carpenter. The Tanner Faculty Award went to Nicole Dragan. 
The Willard L. Lewis Award was presented to the college's registrar, Rachel Mercantini.  
That award is named for Dr. Willard L. Lewis, the college's former president, who placed a great emphasis on the importance staff plays in Isothermal's mission to "improve life through learning."  
"Many on campus have no idea of the amount of reporting and the federal and state-imposed standards and requirements that Rachel is responsible for and must implement across the entire institution," said Stephen Matheny, vice president of Administrative Services, as he recognized Walters. "She gets the job done, always going beyond the call of duty."    
The Golden Apples were presented by Dr. Greg Thomas, Isothermal's vice president of Academic and Student Affairs. President Margaret Annunziata was on hand to congratulate the recipients. She also presented a framed photo of the Walter H. Dalton Engineering Technologies and Workforce Development Building to John Condrey, who served as chairman of the ICC Board of Trustees last year. 
Annunziata also recognized Matt Humphries for his efforts with the college's Global Awareness program and the student trip to Ireland last spring. 
Employees were also recognized for hitting service milestones: 10 Years -- Erin Whelchel, Jonathan Bland, Brenda Craig, Mark Franklin, Bobbi Hodge, Matthew Humphries, Todd Ledford, Michael Lyda, Tangie Jones, and Adam Petit; 15 Years -- Sandy Brackett, Tiffany Cooper, Joe Kendrick, Karen Spratt, Kim Wawzysko, and Debbie Whiteside; 20 Years -- Danielle Aley, Steve Hollifield, and Amy Penson; 25 Years -- Marnie Beaver, Trish Huntsinger, and Kelly Lovelace; 30 Years – Susan Straw. 
Rhonda McCraw and Tim Beaver were recognized as this year's retirees.