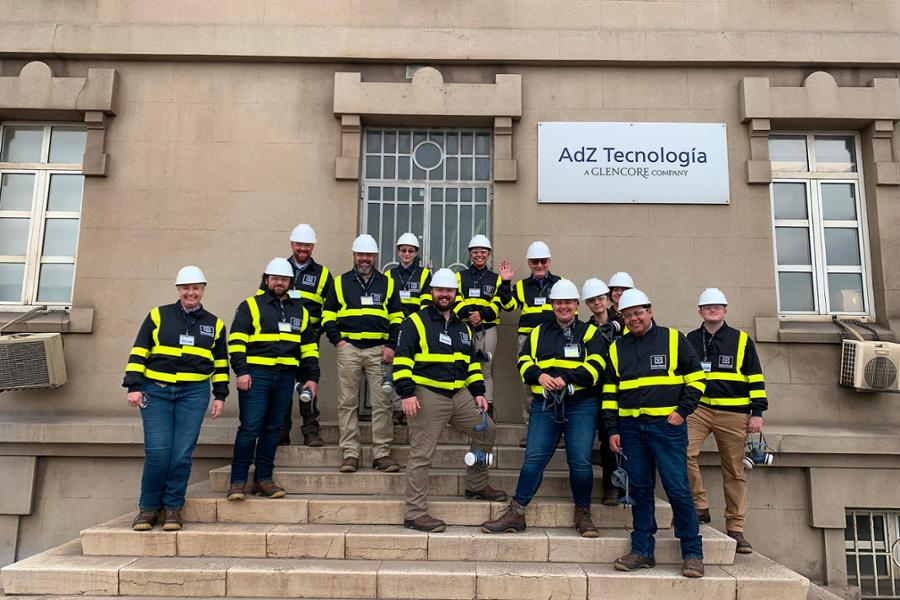 ICC students gain valuable international experience in Spain
By: Mike Gavin
Published: June 05, 2023
SPINDALE (June 5, 2023) – A group of Isothermal students and instructors headed to Spain in late May to learn more about the world of international manufacturing. 
The trip was in partnership with the Rutherford County location of Befesa Zinc Metal, formerly American Zinc Products. The company, which reclaims zinc and other metals from a waste product of steel production, is a part of a larger company called Glencore that has a similar facility in Aviles, Spain, called Asturias de Zinc. 
"Our students spent the spring semester studying these manufacturing processes at our local plant, and then they went to the plant in Avilés to do a benchmarking exercise," said Anne Hardy, the coordinator of the international internship program, which is supported by a generous grant from the Appalachian Regional Commission. "They plan to compile the information that they gathered in Spain, so that they can make recommendations to the leadership at Befesa Zinc Metal." 
The students on the trip were Jonathon Johnson, Austin Price, Kelly Newberry, Jessica Flores, Destiny Lackner, Dawson Powell, Valerie Evans, and Joe Burton. They were accompanied by Hardy, and instructors Nathan Fisher and Bobbi Hodge. Michael Almond, a Charlotte-based international business consultant who has helped with this program, also made the trip. 
During the trip, the students toured many other manufacturing locations, research and development centers, the engineering department of a Spanish university, and the Port of Avilés.   
"One of the manufacturing locations we visited was Cosermo, which designed and manufactured piping and structures for chemical plants," said Hardy. Our local Befesa Zinc Metal was actually designed, manufactured, and installed by Cosermo.  Another plant we visited was Mefasa, which was a heavy equipment manufacturer.  We also visited the Idonial Technology Centers located in Gijon and Avilés." 
Hardy said the group learned about 3D printing and additive manufacturing, robotics, mechatronics, the development of metallic materials, welding tests, and metallic characterizations.  
"We also visited the University of Oviedo Engineering School and met the Dean of Engineering," she said. "During this visit, we learned about many other engineering career pathways available in Spain.  Lastly, we visited the Port of Avilés.  We learned about zinc ore arriving from around the world and saw the raw material prior to it going into the AdZ manufacturing facility before it is made into zinc ingots and bricks." 
Throughout the week, the students and faculty experienced the Spanish food, the culture, the architecture, the history, the natural beauty of the beach, and the surrounding areas of the lush green countryside of Avilés. 
This trip was part of the same program that brought Isothermal students to Trelleborg, Sweden, last to visit and do work with a sister facility of the Trelleborg Coated Materials facility in Rutherfordton. 
For more information on this program or careers in manufacturing, contact Hardy at 828-395-4218 or  ahardy@isothermal.edu, Fisher at 828-395-1515 or nfisher@isothermal.edu, or Hodge at 828-395-4325 or bhodge@isothermal.edu.