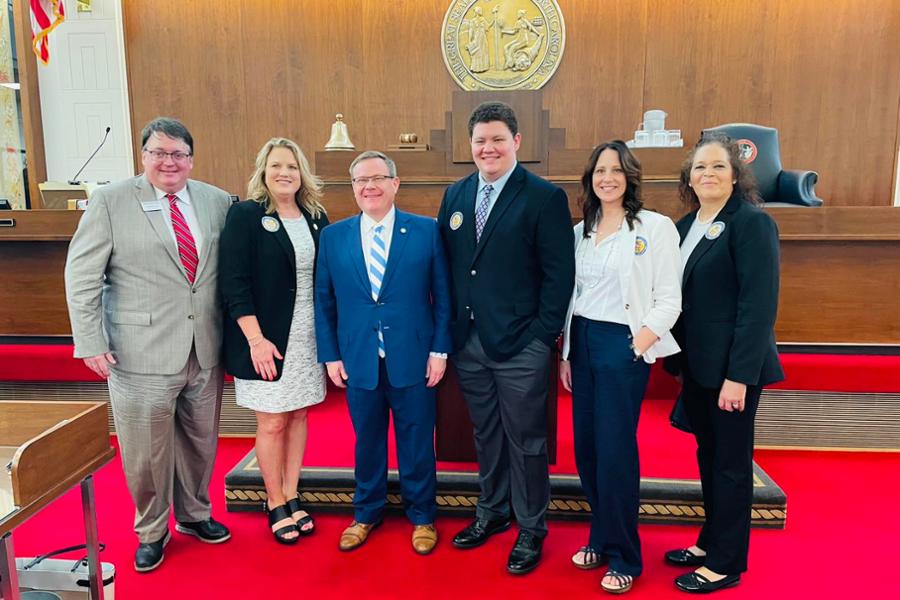 Isothermal Advocates for Systemwide Priorities in State's Capital 
By: Mike Gavin
Published: April 05, 2023
RALEIGH (April 5, 2023) -- More than 300 community college leaders from across the state gathered last week in Raleigh to advocate for the North Carolina Community College System's legislative priorities.  A group from Isothermal Community College participated in the day's events, which highlighted the importance of community colleges in our state. The delegation included Dr. Margaret Annunziata, the college's president; trustee Jackie Godlock; Nathan Cox, a student in the Teacher Prep program who is also a peer mentor; English instructor Loreen Smith; and Michael Gavin, Isothermal's director of Marketing and Community Relations. 
Among the speakers at the Community College Day event were N.C. Senate Pro Tem Phil Berger, N.C. House Speaker Tim Moore and chairs of powerful education and appropriations committees.    All legislators emphasized the critical mission of the community colleges to train and retrain the state's workforce. 
 "Businesses know what they need from their workers, and community colleges know how to build a workforce," Berger said. 
Legislators also commended the community college leaders for their work at all 58 campuses.  "Community Colleges are 58 strong in North Carolina and are truly the lifeblood of workforce development and education improvement in our state," Moore said. 
The Isothermal group visited with Moore, Rep. Jake Johnson, and Sen. Tim Moffitt in their offices after the general session to talk about what ICC is doing in Polk and Rutherford counties. 
"We continue to work collaboratively with our elected officials to elevate the needs of our community and seek additional resources to meet these needs," said Annunziata. "The opportunity to sit down and discuss with Speaker Moore, Representative Johnson, and Senator Moffitt the ways that Isothermal Community College is expanding our programs and services throughout Rutherford and Polk counties was especially important as we plan for future high skill, high wage workforce programs.  We were pleased to have Nathan Cox, a student in our Teacher Preparation program, join us as we met with our legislators to share his story of what ICC has meant to his own personal and professional preparation." 
The NC Community College System is advocating for a legislative agenda focused on students and employees as community colleges work to support the businesses in their communities.   The legislature is currently holding its long session when budget matters are decided for a two-year biennium.