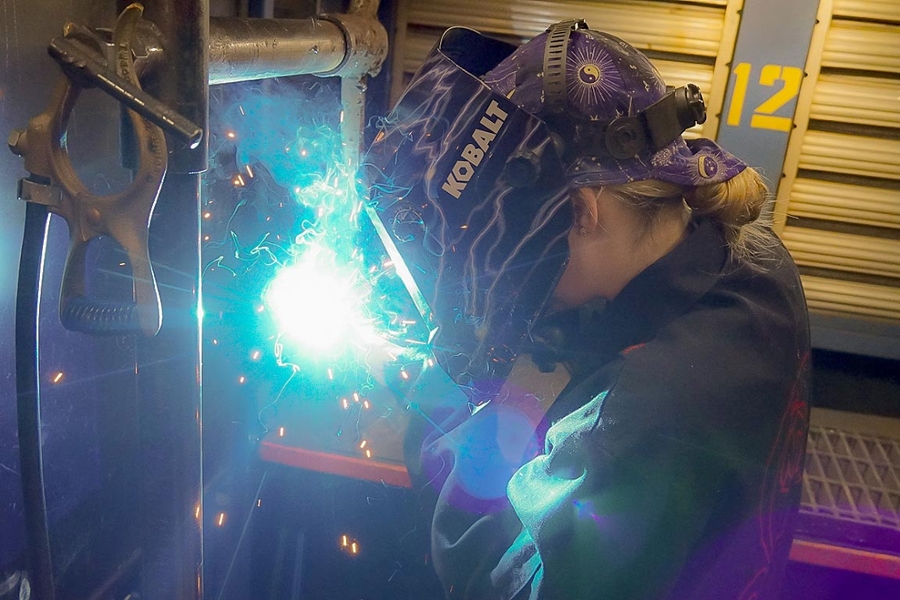 Sparks of ambition fly with women welders 
By: Mike Gavin
Published: March 10, 2023
SPINDALE (March 10, 2023) – "Women aren't welders." Don't say that on the campus of Isothermal Community College where nearly a quarter of the students in the trade program are female. 
"I know there are some good jobs out there in welding, and I know they pay a lot of money," said Tia Booker. "I felt like this could be for me and it is." 
The 11 students range from 17 to 32 in age. One of the young women is in high school, several others are recent graduates, and a few were in the workplace before looking for a new career. 
They are Tia Booker, Taylor Condrey, Kala Davis, Courtney Gettys, Destiny Greene, Sarah Hamrick, Lilli James, Shana Jones, Destiny Lackner, Heather Osborne, and Mackenzie Thomson. 
Several of the women are particularly proud of their achievement and progress in the class. 
"When I was a junior in high school, I took a mechanics class that had some welding in it," said Shana Jones. "Most of the guys in there thought I couldn't do it and I wanted to prove them wrong." 
Lilli James shares the same determination. 
"I was in FFA in high school, and we did some farm welding in there," she said. "I felt like I could weld better than most of the boys could then, and I know I can now." 
Joy Thomson, one of the college's welding instructors, is an inspiration to the young women. She has taught at Isothermal for more than a decade but spent many years working as a welder, mostly in Duke Energy nuclear plants. She first connected with many of her students at some of the events Isothermal has hosted for local K-12 students like the Science Expo and the Careers In Construction Day. 
"I have a great passion for sharing this rewarding trade with our students," said Thomson. "I'm particularly proud of this group because they are showing that young women can succeed in what has often been seen as a male-dominated field. I hope they continue to inspire young women to pursue careers in the trades." 
Mackenzie Thomson, who happens to be Joy's daughter, says she is looking forward to finishing the program and going to work. 
"Even though my mom teaches welding, I didn't really know anything about it, but I love it," said Mackenzie.  
When welding students went on a tour of The Armored Goup, LLC, (TAG), a nearby company that produces armored vehicles for the U.S. military, Mackenzie said one of the supervisors there told her he could hire everyone in her class as soon as they are ready to go to work. 
"There's a lot of demand out there," she said. "I felt like they were ready to hire us as soon as the tour was over." 
Welding involves great precision and careful problem solving, the kind of mental workout some students crave. 
"I've taken lots of classes in lots of different areas here at Isothermal," said Destiny Lackner. "I really love welding though. It takes dedication and patience. You learn a lot about yourself, but you get a lot of pride and enjoyment out of seeing your work." 
Lilli says a student can expect something else as well, driving home a point about safety gear and practices. 
"You will catch on fire at some point," she joked as her classmates erupted in laughter. 
There's room for creativity in the trade, too. 
"I love art and I've tried everything for painting and drawing to quilting and embroidery," said Destiny Greene. "I've never tried welding, but I thought I would like to learn it so I can create some metal sculptures." 
She's learning the basics now but is looking forward to getting more creative with larger sculptures soon. 
"I'm proud of these students and their grit and their dedication to our challenging welding program," said Dr. Margaret Annunziata, Isothermal's president. "This is a great illustration that Isothermal has something for everyone in our community and that we are here to serve each one of them. We are determined to share that message and to help everyone build a better life for themselves and their families." 
Isothermal's Welding Technology curriculum provides students with a sound understanding of the science, technology, and applications essential for successful employment in the welding and metalworking industry. Instruction includes consumable and non-consumable electrode welding and cutting processes. Courses may include math, print reading, metallurgy, welding inspection, and destructive and non-destructive testing providing the student with industry-standard skills developed through classroom training and practical application.  
Graduates of the Welding Technology curriculum may be employed as entry-level technicians in welding and metalworking industries. Career opportunities also exist in construction, manufacturing, fabrication, sales, quality control, supervision, and welding-related self-employment. 
According to the U.S. Bureau of Labor Statistics, the median annual wage for welders, cutters, solderers, and brazers was $47,010 in May 2021. Local demand is strong in western North Carolina and top pay can be significantly higher. 
To find out more about Isothermal's welding programs, contact Joy Thomson at jthomson@isothermal.edu or 828-395-4225 or Nathan Fisher at nfisher@isothermal.edu or 828-395-1515.