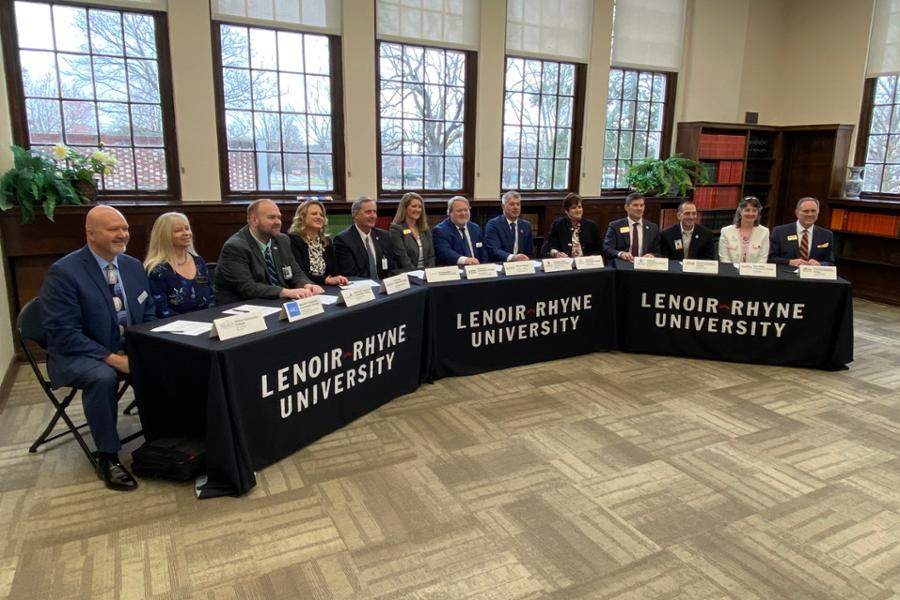 Lenoir-Rhyne and Isothermal ink transfer deal
By: Mike Gavin
Published: February 27, 2023
HICKORY (Feb. 23, 2023) -- Lenoir-Rhyne University and Isothermal Community College, along with 13 other North Carolina community colleges, signed agreements this week to expand transfer student access and make a four-year degree more affordable. Called Bear Bound, the program builds on existing efforts to make Hickory-based Lenoir-Rhyne a viable option for community college students who transfer after completing their associate degree. 
"This initiative came from our 2019 strategic plan and is another effort by LR to be responsive to the needs of the students and families in the region we serve. We are fortunate to have outstanding community colleges in our region and wanted to enhance pathways and remove the obstacles transfer students often face," said Fred Whitt, Ed.D., president of Lenoir-Rhyne. "I am grateful for our partner community colleges and excited to position LR as the private university partner of choice for community college transfer students in North Carolina." 
Dr. Margaret Annunziata, Isothermal's president, is excited about the arrangement.
"We are all about creating opportunity for those in our communities through collaboration with excellent partners like Lenoir-Rhyne," said Annunziata. "It is our hope that the students who take advantage of this program will create a better life for themselves and their families."
Starting this fall, Isothermal students will be able to access the following when transferring to Lenoir-Rhyne: 
Transparent and seamless transfer of credits for community college students in general education. LR will now accept general education core requirements completed at community colleges. This means students will not have to take additional general education courses to satisfy LR's requirements. 
Lower tuition for all students. LR has reduced tuition by $13,000, from $43,000 to $30,000. 
Financial aid packaging that improves accessibility for community college graduates to attend LR. Community college transfer students are now eligible for the LR Promise, which reduces tuition for eligible students by $15,000 before other financial aid is applied. Additional aid can further lower tuition. For example, a student from North Carolina who transfers to LR after receiving their associate degree from a partner community college and is eligible for the full Pell Grant award of $9,000 would see their tuition cut to $6,000. As a result, their four-year degree could cost as little as $12,000. 
Campus housing for community college students. LR now offers housing for students enrolled at local community colleges, hosting between 10 and 12 such students per semester over the previous two years. 
Expedited pathways for students in professional programs. LR is dedicated to working with each institution to develop a clear roadmap for students pursuing these programs. For example, a high school student who completes an associate degree from a community college may apply for direct entry into LR professional programs, such as nursing, elementary or secondary education, accounting, information technology and more. 
Seamless and cost-effective pathways for working community college nursing graduates. Any RN with an associate degree will be eligible to enroll in LR's RN to BSN program. The program of eight courses (24 credits) can be completed in 12 months by enrolling in two courses each semester. A reduced, fixed tuition for the program will make this pathway more accessible for working adults. 
Co-admission and joint advising models that enhance our pathways. LR is working to implement co-admission agreements with community colleges and to explore joint advising opportunities. 
Whitt outlined these details at a launch event on Feb. 22 on the LR campus, noting the deeply rooted connection LR has with Hickory and the surrounding area. "In this community, it's never about the 'me.' It's about the 'we.' We're better when we work together."  
In addition to Isothermal Community College, the community colleges that have signed partnership agreements with Lenoir-Rhyne include: 
Asheville-Buncombe Technical Institute 
Blue Ridge Community College 
Caldwell Community College and Technical Institute 
Catawba Valley Community College 
Cleveland Community College 
Gaston College 
Haywood Community College 
McDowell Technical Community College 
Mitchell Community College 
Southwestern Community College 
Tri-County Community College 
Western Piedmont Community College 
Wilkes Community College 
Contact the Isothermal Advising Center at 828-395-1436 for more details.