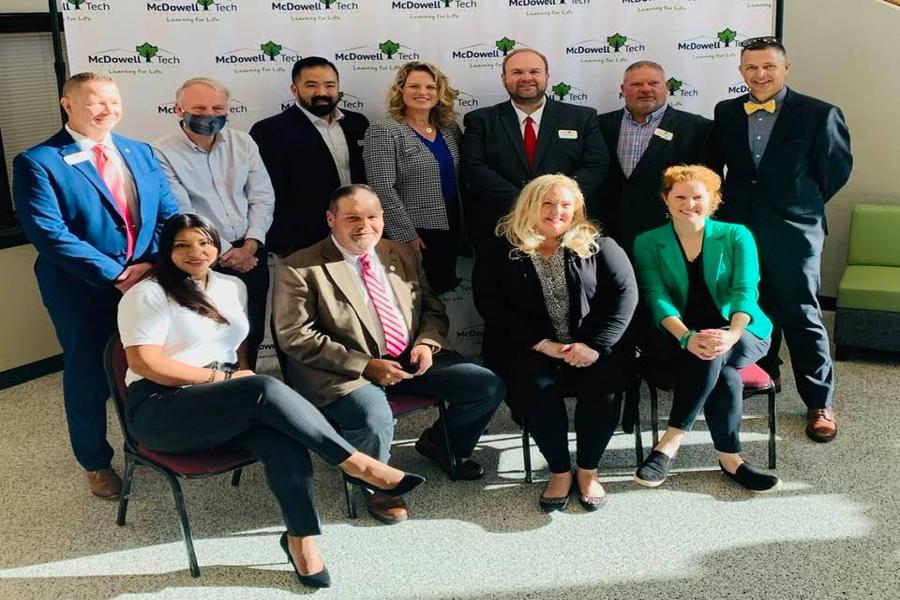 Isothermal, McDowell Tech honored for CULA partnership 
By: Mike Gavin
Published: January 24, 2023
SPINDALE (Jan. 24, 2023) – Isothermal Community College and McDowell Technical Community College have received statewide recognition for an outstanding partnership with Centro Unido Latino Americano (CULA), officials said Tuesday. 
The announcement of the 2022 Distinguished Partners in Excellence Award was made in a release from the North Carolina Community College System after approval by the State Board of Community Colleges last Friday. 
CULA is a non-profit organization serving Hispanic and Latino communities in the Foothills region with training and education offered by McDowell Tech and Isothermal, as well as services provided by other local agencies. 
"Our mission is to build bridges between communities and access to essential resources and socio-emotional support," said Margarita Ramirez, CULA's executive director. "Centro Unido Latino Americano acknowledges the gap between educational institutions and Latinx/immigrant families. Through this collaboration, we are bringing the assets of all Latino communities to the table and are allowing them to have a better socio-economic outcome." 
Dr. Brian Merritt, McDowell Tech's president, said Ramirez and her CULA team have been a blessing to the community. 
"Successful partnerships with organizations like CULA help us better serve students who were historically underserved and build regional capacity to the local and regional workforce development needs," said Merritt. 
In the fall of 2021, CULA, McDowell Tech, Isothermal, and the Foothills Workforce Development Board launched a collaborative workforce development initiative called Foothills Forward. The aim is to help address the regional labor shortage in McDowell, Rutherford, and Polk counties in western North Carolina. The project was funded by a $1.498 million grant from the U.S. Department of Labor's Workforce Opportunities in Rural Communities (WORC) program. 
"This very deliberate partnership is starting to yield valuable benefits in our region," said Dr. Margaret Annunziata, Isothermal's president. "We are committed to serving all members of our communities and part of that is connecting each person with the opportunity that is right for them and that, ultimately, will improve life through learning.  Providing a pathway to a rewarding career that includes a workforce credential with labor market value allows our community members to maximize their earning potential while meeting the need for a skilled workforce across western NC." 
Ramirez agrees. 
"This kind of partnership builds bridges between communities and establishes a more equitable approach to providing services to our diverse communities and ensures that we continue to promote effective initiative building with entities that align with our vision and mission," she said. 
The Foothills Forward partners are connecting Black, Latino, and other traditionally underserved residents with necessary education and high-demand training opportunities, expanded work-based learning and apprenticeship opportunities, support services and financial assistance based on individual needs. As participants progress through training, they receive career and job placement services to help them enter or re-enter the workforce. The Foothills Forward project is working to engage 923 participants in workforce training over a three-year period, including at least 100 Hispanic and Latino workers. 
CULA has hired a Latino Workforce Coordinator to recruit individuals to participate in English Language Acquisition classes (ELA/ESL), high school equivalency and career training opportunities. This individual also serves as a bridge to the employer community and to provide translation services for job placements. 
Since the partnership began, CULA has staffed offices with regular office hours on both campuses to better assist connecting Latino members of the community with resources. 
In partnership with CULA, MTCC has already run two successful Construction Trades Academies in 2021, both with over 10 students and over half of the graduates being from the Latino and non-native English-speaking community.  
Last year, MTCC had similar success with enrolling over half of its non-credit trades and manufacturing programs with Latinos students in the following: Plumbing Academy; Electrician Academy; and a HVAC Academy. 
The Distinguished Partner in Excellence Award was established by the State Board of Community Colleges in 2006. The award recognizes an exemplary employer, business or industry group that has demonstrated decisive involvement and firm commitment to the professional development of its employees and/or to the development of North Carolina's workforce through its partnership efforts with one or more of the 58 community colleges in the NCCCS. 
This is the second time Isothermal has won this award, the first being in 2016 with the college's partnership with the Tryon International Equestrian Center.