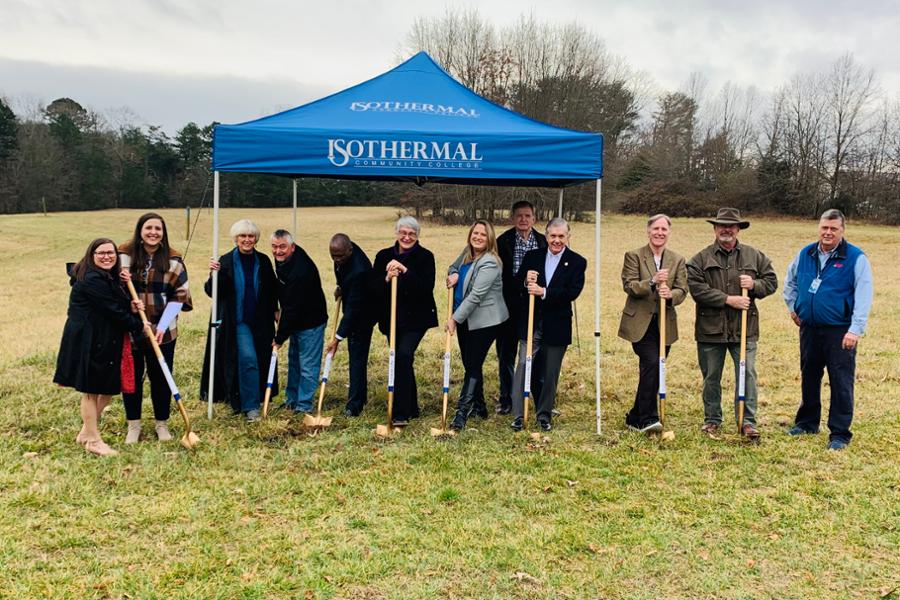 Groundbreaking held for therapeutic riding arena 
By: Mike Gavin
Published: January 31, 2023
SPINDALE (Jan. 31, 2023) – A critical addition to Isothermal Community College's agribusiness and human services programming got started today. 
Officials broke ground on a new 13,068-square-foot covered instructional riding arena on Tuesday. The facility is part of the Isothermal Agribusiness Center on Oakland Road and is located nearby the instructional barn and greenhouse. 
It will support the college's Animal-Assisted Interactions program, which teaches students how to use horses and other animals to provide therapy for people including veterans with post-traumatic stress disorder and those with developmental disabilities. 
The arena will also provide space for Equine Studies and other related classes, as well as for community activities that call for such space. 
"We are so excited to see this project take shape with the support of our many partners," said Dr. Margaret Annunziata, president of Isothermal. "This arena not only highlights and celebrates our area's rich heritage in the equine industry but allows us to prepare highly skilled professionals to support the intersection of equine business, human services and equine therapy, and economic development for our region."  
The facility was designed by LS3P Architects and will be built by Wilkie Construction of Lenoir. The cost will be $785,388. Of the combined resources, $50,000 of that will come from the college's Rutherford County capital reserve fund. The expected completion date is in August. 
College trustees, faculty, and staff were joined at the ceremony by community members and representatives from the many agencies who provided funding for the project. These include the Appalachian Regional Commission, the U.S. Department of Agriculture, the Golden LEAF Foundation, the Cannon Foundation, and the Rutherford County Board of Commissioners. Representatives from Rutherford and Polk counties federal and state legislative delegations were also in attendance. 
"Golden LEAF is pleased to support Isothermal Community College's therapeutic riding area as part of its growth in enrollment in agribusiness, equine business, and animal assisted interaction programs," said Scott T. Hamilton, Golden LEAF President, Chief Executive Officer. "Certifications related to these programs will help fill 345 full-time certified therapeutic instructor positions across the state." 
For information on enrolling in these programs, contact Kimberly Snyder at ksnyder@isothermal.edu or Kim Wawzysko at kwawzysko@isothermal.edu.