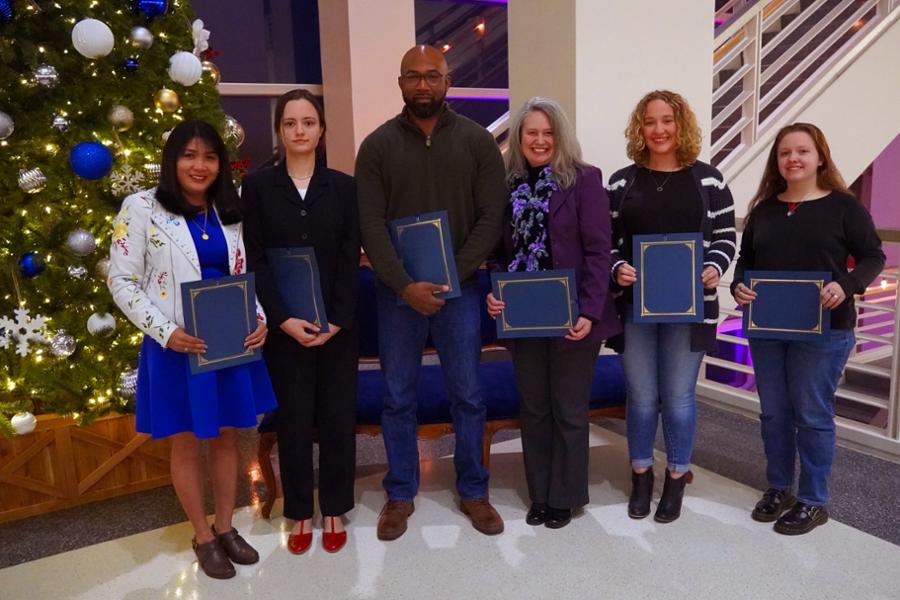 College names Fall 2022 Students of Semester   
By: Mike Gavin
Published: December 06, 2022
Sixteen Isothermal Community College students were recently awarded Student of the Semester Awards. Pictured are Ainie Dalton (left to right), Kelly Newberry, John Staley, Kimberly Trivette, Madilyn Wilson, and Emily Walters. The other recipients were unable to attend the ceremony. 
SPINDALE (Dec. 1, 2022) – Sixteen Isothermal Community College students were recently recognized for exemplary performance.   
The Fall 2022 Learning College Student of the Semester Awards were presented during a ceremony in the lobby of The Foundation Performing Arts and Conference Center on Thursday, Dec. 1.    
This semester's award winners are Susanna Ashworth, Katelyn Ball, Catherine Barsaloux, Arianna L. Chavez, Ainie Dalton, Kaylee Garner, Anna Lawson, Cody Lowder, Kelly Newberry, Ella Marie Parris, John Staley, Tyler Staley, Kimberly Trivette, Emily Walters, Faye Williams, and Madilyn Wilson.   
The awards were presented by Dr. Greg Thomas, vice president of Academic and Student Affairs. The audience was welcomed and congratulated by Pres. Margaret Annunziata.   
Each student was nominated by one or several of their instructors. The nomination forms included a section of comments about the qualifications of each student:   
Susanna Ashworth 
Career & College Promise 
Susanna Ashworth is a Career and College Promise student that attends Polk County High School. Susanna is a senior who plans to attend a university in the fall of 2023 to major in biology. Her academic excellence is evident in both her high school and college coursework. She plays numerous varsity sports and serves as the President for the National Technical Honor Society and the Key Club. 
Katelyn Ball 
Occupational Education 
Katie, a Nurse Aide I student, is always prepared for class by studying and prepping for upcoming skills checks.  She is motivated and eager to learn new things.  Katie is a leader in the clinical and classroom setting and exemplifies this by volunteering to demonstrate skills in lab and assisting others at the clinical site.  She is very dependable and does not need much direction or oversight as she is a fast learner.  For these reasons, we are proud to recognize Katie as the Occupational Education Student of the Semester. 
Catherine Barsaloux 
Arts and Sciences 
Catherine is inquisitive and reflective, and she collaborates well with classmates. Along with her superior educational prowess, she also serves as a Peer Mentor, assisting students toward their goals. Additionally, Catherine is the Book Club President and is quite accomplished as a Writing Center tutor. In every endeavor Catherine pursues, she exhibits excellence, which not only makes Catherine the ideal student but also a wonderful, future criminal psychologist. 
Arianna L. Chavez 
Polk County Early College 
Arianna is a fantastic student at Polk Early College High School. She is hard-working, driven, and a friend to her peers. She has consistently received high grades every semester, and made the ICC Dean's list in Spring 2022. She currently works in Polk County Schools' Afterschool program teaching elementary aged students, and plans to study Psychology with an emphasis on Child Development after she graduates in the Spring with her Associate's and her high school diploma. 
Ainie Dalton 
Academic Development 
Ainie has a great appreciation of learning and realizes that an education is a game changer for opening doors to improve life. Ainie is faithful in attendance, regardless of how tired she may be. She always seeks out help from her instructor and the tutors in the tutoring center. Ainie is not satisfied until she comprehends what she is trying to learn, so she perseveres until she has the clarity she seeks. She is considerate, respectful, and kind to everyone in the class. 
Kaylee Garner 
Academic Development 
Kaylee logs in to the course nearly every day. She never misses an assignment, and the quality of her work is excellent. She is always willing to improve herself, takes constructive criticism to heart, and is genuinely thankful for the feedback. Kaylee does not hesitate to initiate conversation and also responds to messages in a timely manner. Kaylee is the epitome of what an online student should be. 
Anna Lawson 
Occupational Education 
Anna is a stellar future massage professional and a joy to have as a student. She has excelled academically through her motivated engagement in all topics. Anna brings a mature, calm, nurturing approach to her massage that will serve her future clients well. Her quiet confidence, quick mind, dedicated work ethic and subtle sense of humor have earned her the respect of her classmates. She has been an integral member of her class team and I'm sure she will effectively represent the principles and mission of ICC as a graduate and professional. 
Cody Lowder 
Health and Public Services/CCP 
Cody is enrolled in web-based courses at East Rutherford High School.  He is always the first to respond or submit assignments and works ahead when possible.  He is extremely conscientious and always does his best.  He will complete his criminal justice certificate in the spring. He has been a fantastic addition to the program and he can be extremely proud of what he has accomplished and will achieve. 
Kelly Newberry 
Arts and Sciences 
Kelly is an excellent student who seeks to master whatever she sets herself to. In the classroom, her contributions are insightful and engaging, and she builds a sense of community around the content of each course. Outside the classroom, as vice president of ICC's Book Club and as a Scholar of Global Distinction, Kelly pushes herself and others into interesting and challenging territories. She is a great example of what ICC students are capable of.   
Ella Marie Parris 
College and Career Readiness 
Marie made the decision to return to school and began attending the Adult High School program in the Fall of 2020.  Marie has an exemplary work ethic and has finished ten courses.  She is currently tackling math with grace and humility; often earning perfect scores.  She is supportive of her classmates, cheering them on to raise their spirits and encouraging them to persist.  Marie shows us all that it is never too late to achieve your dreams.  She is the epitome of a lifelong learner. 
John Staley 
Health and Public Services 
John returned to college in the fall of 2021 and has become an inspiration to both his fellow students and his instructor.  He has proven his strength both academically and personally.  John maintains a positive attitude and seeks to encourage his classmates in their professional growth.  He is reliable, punctual, and asks pertinent questions.  John has been a fantastic addition to the program and he should be extremely proud of the what he has accomplished and will achieve. 
Tyler Staley 
Applied Technologies 
Tyler Staley has demonstrated exceptional dedication to his passion for education in Building Construction, while also establishing team building engagement with the students in his classes. Tyler has been a full-time student, while also working a full-time job. He is motivated in understanding and performing any tasks and problem solving any challenges that are presented. His determination and motivation have proven to be a role model for others to follow. Tyler is a well deserving student that has a bright future in the fields of construction.  
Kimberly Trivette 
Applied Technologies 
As a Medical Office Coding and Billing student, Kim is conscientious, pro-active, and strives for perfection in all that she does. Her instructors say that they can always count on her to participate in and lead class discussions. For that reason, she is admired for her "can do" attitude.  She asks thought-provoking questions that challenge her fellow students and her instructors. Kim is currently working in the Registrar's office through the college's work study program. 
Emily Walters 
Rutherford Early College High School 
Emily is a Rutherford Early College High School student, completing both her high school diploma and the Associate in Science degree. Emily is a model student, who is highly intelligent and always striving for success. Whether it be on the Rutherford Early College High School robotics team or in the college classroom, she has a leadership style that encourages others to rise to her level of motivation. After spring graduation, Emily plans to continue her studies by pursuing a degree in biochemistry. 
Faye Williams 
College and Career Readiness 
Faye has an unwavering desire to learn and has made significant gains in her reading and math skills.  Her attendance is excellent and her dedication to studying is remarkable. There are factors in her life that would discourage less tenacious people.  Faye loves school and refuses to let anyone or anything thwart her efforts.  Learning is a top priority in her life.   She has built confidence in herself and is taking steps towards reaching her goals.  We are very proud of Faye. 
Madilyn Wilson 
Health and Public Services 
According to her instructors, Madilyn is a joy to teach! She is always willing to help, and puts 110 percent effort into everything she does. She helps out her fellow peers and serves as the vice president of the dental assisting club. She always has a smile on her face and takes constructive feedback well to better her skills in dental assisting. 
Category: Awards