SECU Foundation Provides Bridge to Career Program Scholarships to Local Community College Students
By: State Employee's Credit Union
Published: October 19, 2022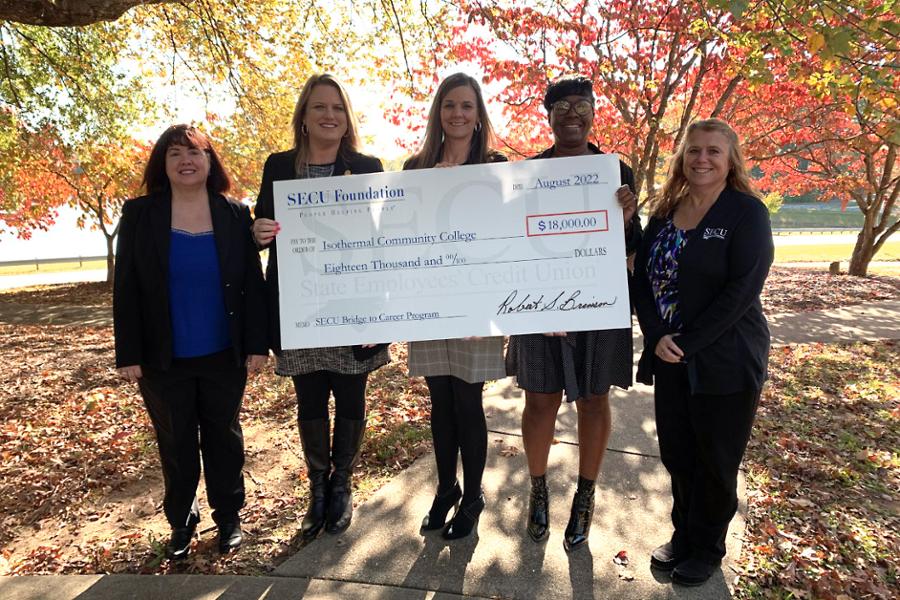 October 19, 2022 Forest City – The member-funded SECU Foundation has provided funding for up to 30 local students to receive an SECU Bridge to Career scholarship valued at $500 for study at Isothermal Community College.
SECU Foundation introduced the SECU Bridge to Career Program in 2018 to help students seeking to obtain careers with sustainable wages in their local communities. Administered by each college, the initiative focuses on assisting individuals with finding vocational and job placement opportunities through eligible training programs that lead to state-regulated or industry-recognized credentials. Scholarship funding will be applied to educational expenses and other expenditures associated with their program of study through a North Carolina Community College workforce development program.
SECU Foundation Executive Director Jama Campbell comments, "This scholarship program is an essential piece of SECU Foundation's scholarship offerings, filling the gap with support for individuals seeking a job in a high-demand trade industry or enhancing their education with new skills to advance their career. North Carolina has an excellent community college system, and we are proud to work together with state educators to help North Carolinians work toward a better future. On behalf of SECU Foundation, we offer our congratulations to these recipients."
With the combined commitments for the SECU Bridge to Career and "People Helping People" Community College Scholarship programs, SECU Foundation funding for the NC Community College System totals over $1.6 million annually.
About SECU and SECU Foundation
A not-for-profit financial cooperative owned by its members, SECU has been providing employees of the state of North Carolina and their families with consumer financial services for 85 years.  SECU is the second largest credit union in the United States with $53 billion in assets and serves over 2.7 million members through 273 branch offices, over 1,100 ATMs, 24/7 Member Services via phone, www.ncsecu.org and a Mobile App.   The SECU Foundation, a 501(c)(3) charitable organization funded by the contributions of SECU members, promotes local community development in North Carolina primarily through high impact projects in the areas of housing, education, healthcare, and human services.  Since 2004, SECU Foundation has made a collective financial commitment of over $235 million for initiatives to benefit North Carolinians statewide.
Category: Awards