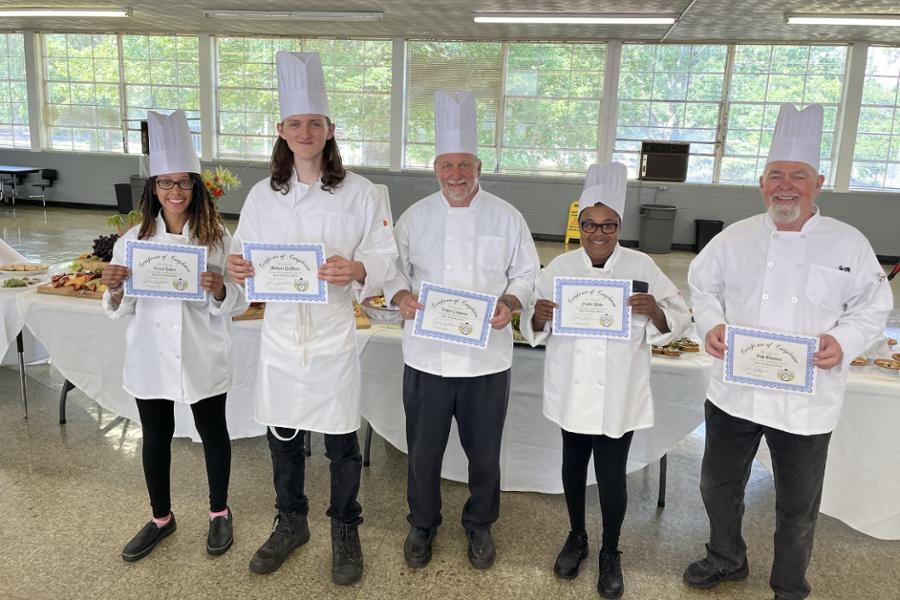 Culinary arts students graduate
By: Mike Gavin
Published: June 06, 2022
SPINDALE (June 6, 2022) – Five aspiring chefs were awarded certificates recently by Isothermal Community College.
The Basic Culinary Skills students prepared food for the ceremony attendees to enjoy during a reception at the event.
The graduates are Corey Dover, Frieda Petty, Bob Blanton, Michael Demers, and Roger Campana.
The intensive training covered the concepts, skills, and techniques involved in volume food production for restaurant or institutional settings. Emphasis was on the development of knife skills, tool and equipment handling, and the principles of food preparation and safety.
In addition, students built their palates, learning how one taste or texture affects another while broadening their knowledge of the chemistry of food.
The course paired lecture with a great deal of hands-on training. Students focused on traditional cooking techniques as well as new and innovative methods. They also developed industry-recognized professional prep skills and explored opportunities for exciting careers in theculinaryfield.
The class was held in the college'sculinarytraining facility at the Rutherford Opportunity Center in Forest City.
To reserve a spot in the next class, contact Dee Spurlin at 828-395-1416 ordspurlin@isothermal.edu.
The Culinary Arts program is made possible through the generous support of partners including the Appalachian Regional Commission and Rutherford County Schools.