Students graduate at Isothermal. McBrayer delivers commencement address
By: Mike Gavin
Published: May 16, 2022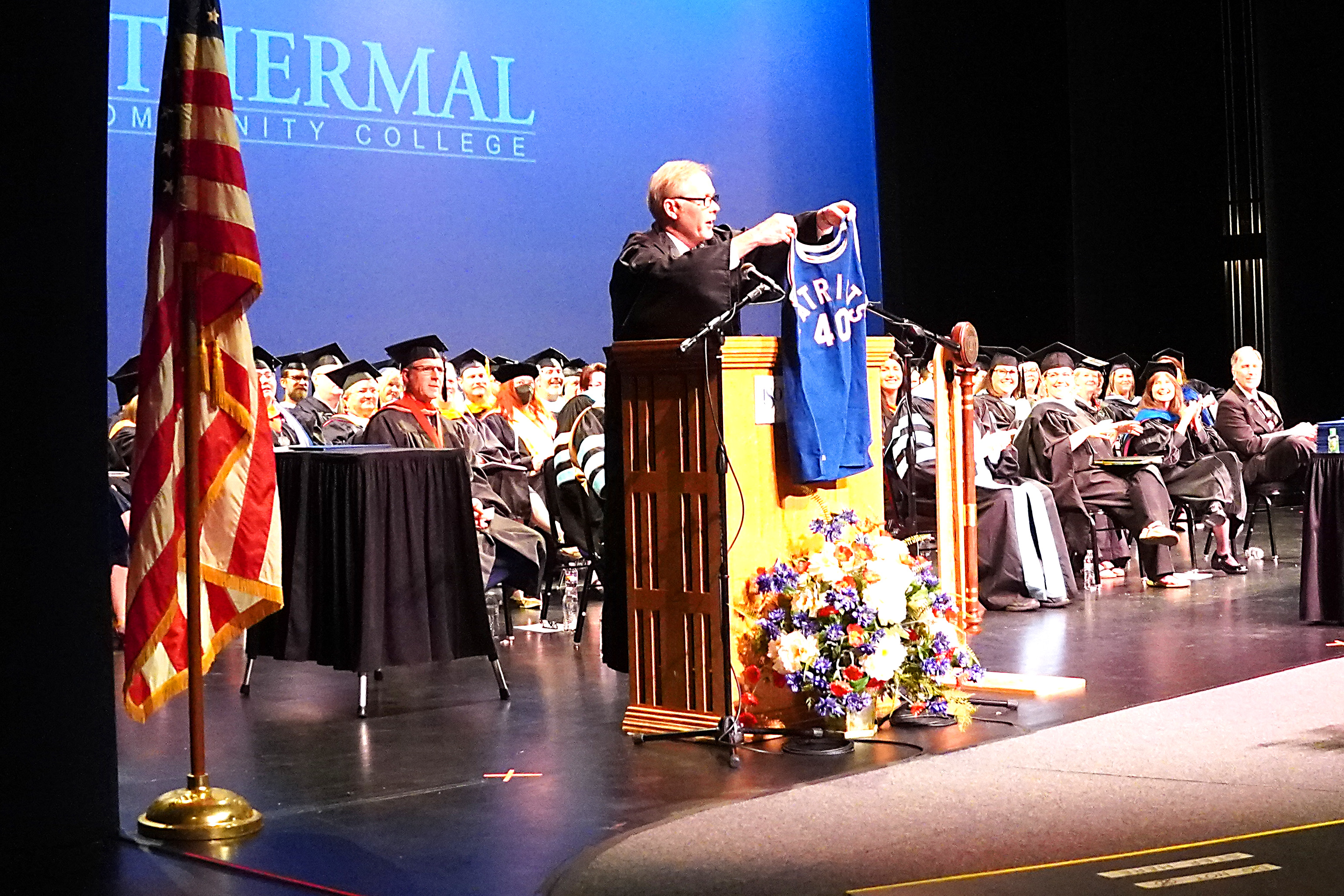 SPINDALE (May 16, 2022) – Hundreds of Isothermal students graduated this week with nearly 1,000 credentials. The commencement address was given by Forest City native, Bill McBrayer who is the vice chair of the North Carolina Board of Community Colleges.
The 2022 Curriculum Commencement Ceremony was held Monday, April 16, at the Foundation Performing Arts and Conference Center. The college recognized 646 graduates who earned 898 degrees, diplomas, and certificates. The Isothermal Class of 2022 comprises graduates from 15 North Carolina counties, three states, and three countries.
The ceremony opened with the presentation of the ceremonial mace by Dr. Alice McCluney, a childhood education instructor. She presented the mace in her role as the current recipient of the Robert Wendell Eaves Distinguished Teaching Award. This is the first appearance of the mace that was designed and built earlier this year by several members of the Applied Sciences and Engineering Technologies Department.
John Condrey, chairman of the Isothermal Board of Trustees, welcomed the audience and recognized his fellow trustees and elected officials in attendance.
Then, President Margaret Annunziata addressed the graduates.
"When you first decided that you would continue your education at Isothermal Community College, you had a purpose" she said. "For some of you, it was clearly identified, while others of you may have felt it more as an idea or possibility. However, today, you have fulfilled that initial purpose.  You have done what you set out to do.  We are proud of you, and we look forward to watching you as you continue to fulfill your purpose and make your mark on the world before you!"
Several awards were presented including the Alumni of the Year Award, which went to retired Rutherford County Sheriff's Office veteran Leon Godlock. The Eaves Distinguished Teaching Award went to Carolyn Young, the lead instructor in the Broadcast Production Technologies program.
Annunziata then introduced McBrayer who talked about his journey as a mid-70s graduate of East Rutherford High School to Isothermal then Lenoir-Rhyne University to a successful career in the furniture business and in public service.
"He is a true champion of community colleges across the state," said Annunziata His passion is evident when you hear him talking to lawmakers and other stakeholders about the importance of the community college system."
McBrayer told the graduates about his time at Isothermal where, he claims, he did not distinguish himself academically. He played ICC basketball and showed his old Patriots jersey to the graduates. He spent about three years at Isothermal before going into the workforce.
Several years later, he realized the importance of education and how it was really the only way to meet his goals of advancing his career. He attended Lenoir-Rhyne University in Hickory and earned his degree.
"I spent three years at Isothermal and four years at Lenoir-Rhyne, that's seven years for one degree in case you're counting," he joked.
He told the stories through a series of "nuggets" – profound but short pieces of advice.
"There's never a right time to make a wrong decision," he said, "and there's never a wrong time to make a right decision."
At the end of the address, Annunziata presented McBrayer with an Honorary Associates Degree.
At that point, Dr. Greg Thomas and the academic deans presented degrees to the graduates.
Arts & Sciences 

Applied Sciences and Engineering Technology

Business Sciences

Health and Public Services