ICC will hold computer coding camp
By: Mike Gavin
Published: May 16, 2022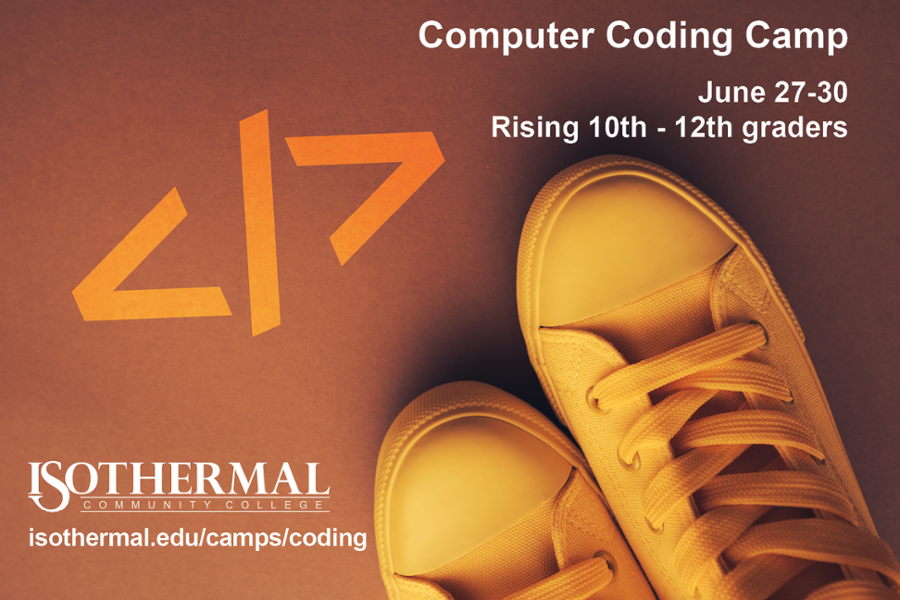 SPINDALE (May 13, 2022) – Attention, young coders! Isothermal Community College is hosting a Computer Coding Camp this summer.
The camp is designed to engage rising 10th through 12th (current 9th - 11th) grade students to engage in a hands-on project-based learning focused on learning and developing coding/robotics skills. The camp will make use of Isothermal's Game Development and Robotics lab. The camp will be held on campus from June 27-30, and each day will begin at 10 a.m. and end at 2 p.m.
Each day will start out with a morning session that presents an interactive lesson on coding/robotics related topics. During these lessons, students will be introduced to industry tools and techniques and will have the opportunity to explore planning and development processes using select introductory tools and languages.
Specifically, participants will learn basic coding skills as applied to robotics coding, coding for web development, and Windows desktop coding. Then, each day during lunch, students will interact with an industry expert guest speaker who will share their expertise and experience in the field.
After lunch, students will have the opportunity to use what they have learned that day by programming in a hands-on lab environment. And, as a bonus, part of that hands-on experience will include coding on an individual Edison v2 robot that campers will get to take home and keep after completing all four days of the camp.
"To end the day, we will discuss what inspired us, what was difficult, what we learned and what we're looking forward to the next day," said Dr. Dana Anderson, the ICC computer science instructor who is organizing the camp.
Applications are taken until all camp spaces are filled with a deadline of June 10, 2022. The application must include an essay describing your interest in attending the camp.
The registration fee for this camp is $325 per student. However, due to generous support from the sponsor Meta, the college is able to provide scholarships for students accepted to the camp in this inaugural year of the Isothermal Computer Coding Camp.
More information and a link to the information may be found here: www.isothermal.edu/camps/coding