ICC Practical Nursing student receives honor
By: Mike Gavin
Published: May 09, 2022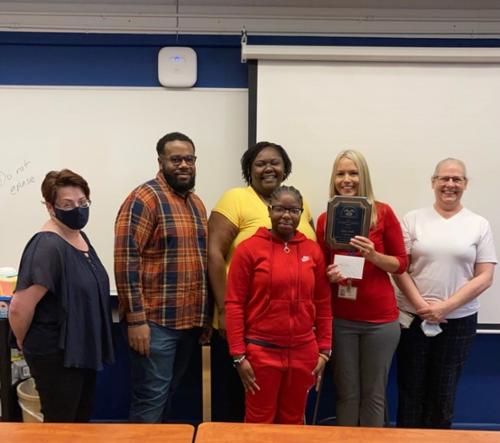 SPINDALE (May 6, 2022) -- Lateca Smith, a Practical Nursing student at Isothermal Community College, received the North Carolina Council of Practical Nurse Educators (NCCPNE) Award recently.  
This award is given annually by the NCCPNE to one exceptional student and one practical nurse educator. Smith was nominated as the Practical Nursing class president in October 2021. Her instructors say her positive attitude and genuine interest in becoming a nurse set the example for the other students. Smith enjoys the clinical experience and seeks out learning opportunities whether in the classroom or clinical setting. Additionally, she has developed study groups for the class to aid in the success of her fellow students.She has been active outside the classroom as well. Last fall, Smith attended the ICC Student Government Association breakfast with the college's Board of Trustees to represent the PN program. 
Smith is also active in her community. She enjoys working in her children's schools. She stays busy with her church and is the chairperson for the Young Adult Ministry. She enjoys reading, participating in devotionals, and balancing time with her family.
Her instructors say Smith sets the standard for the class by being always prepared for class or clinicals. "She is hardworking, dedicated, a good academic student, and leader," said Stephanie Denison, director of the Practical Nursing program. "She genuinely cares about her classmates and their abilities to complete the nursing courses successfully. She understands it is a team effort to be successful in the program. There is no doubt Lateca Smith will be a great nurse as reflected by her study skills, application, and development of concepts as well as nursing skills. We wish her congratulations."
For more information about the Practical Nursing program, review the ICC website or contact Denison at sdenison@isothermal.edu or 828-395-1762. 
For more information about the NCCPNE, visit the website at https://nccpne.wildapricot.org/.