ICC honors Department of Corrections graduate
By: Mike Gavin
Published: May 20, 2022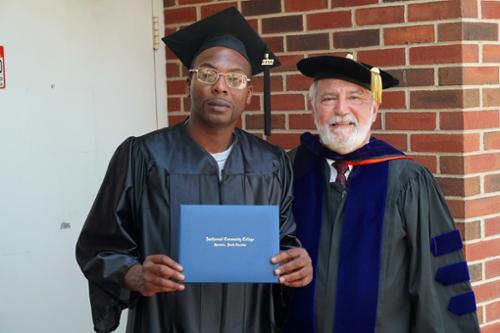 SPINDALE (May 18, 2022) – Jermain Porter, an inmate at the Rutherford Correctional Center, was honored by several Isothermal Community College faculty and staff members when he received his general equivalency diploma this week.
For many years, Isothermal has worked with inmates at the center to help them earn their GEDs. The COVID-19 pandemic paused that in 2020, but the effort has resumed with Porter as the first graduate. One other man, Kyle Imhoff, graduated from the program, but was not present because he has been transferred to another facility."I feel good," Porter said outside the center's chapel on Wednesday, May 18. "I worked really hard on it. It's a good feeling to be able to live in here and work on something that really matters. I'm glad I had a chance to better myself while I was here."Porter is on track to get out this December. He has been in the correctional system for 22 years."I came in here as a boy and I'll leave as a man," he said. "I'm a living witness that we can all change. I want to be an example to others that you can make it. I'm not stopping."Porter said his time in the program was challenging, but rewarding. He particularly liked his instructor, Dr. Larry Gregg."He was great," said Porter. "I've had several teachers over time, but he was the one that really made a difference and really motivated me."Porter already has a job in the community through a work-release program, but is looking forward to his freedom."I can't wait to find a good church family," he said. "I'm ready."
For more information on Isothermal's adult high school and GED program, contact Barbara Callahan at bcallahan@isothermal.edu or 828-395-1631.