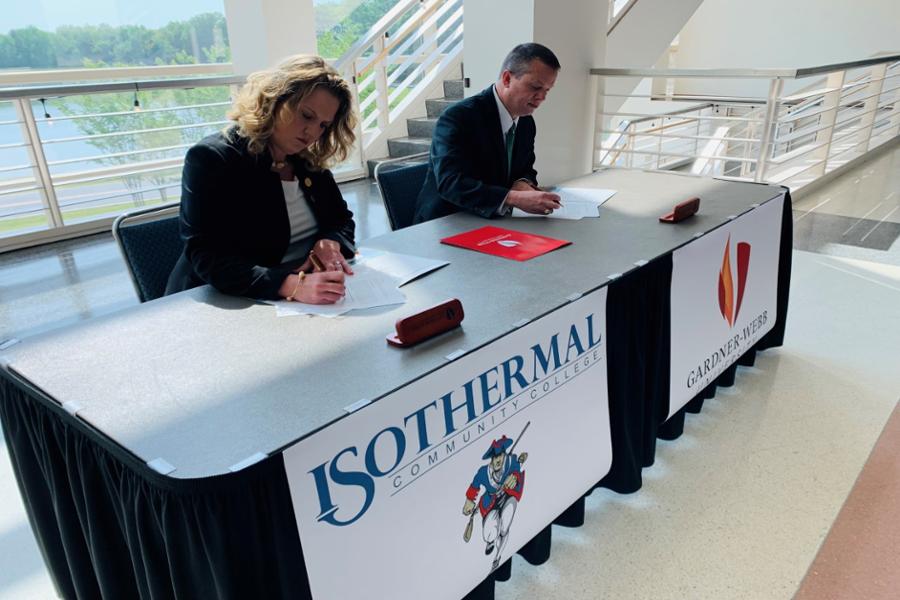 Gardner-Webb and Isothermal team up for student success
By: Mike Gavin
Published: May 05, 2022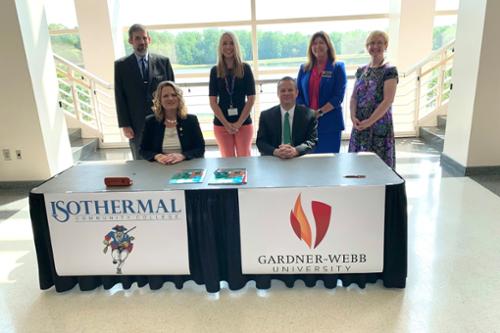 SPINDALE (May 4, 2022) — Attending Gardner-Webb University just got easier for Isothermal Community College students.
Gardner-Webb and Isothermal officials signed agreements Wednesday to establish the Bulldog Bound and Bulldog Way programs. Another agreement, which creates a simple pipeline for Isothermal nursing students to further their education at GWU, was also signed.
The signing ceremony was held at The Foundation Performing Arts and Conference Center on ICC's Spindale campus.
"This is a great way to bolster the partnership between Gardner-Webb and Isothermal," said Dr. William Downs, president of Gardner-Webb University. "Any time we are doing a good thing with our neighbors to create greater opportunities is a good day for our students."
Bulldog Bound is a co-admission program that provides students admission to Gardner-Webb upon graduation from Isothermal.While enrolled at ICC, interested students will complete a brief online form provided by the Advising Center.The Bulldog Way Grant provides a $3,000 scholarship to any Isothermal Community College student who applies and gains admission to one of Gardner-Webb's traditional, residential programs.  The student must have attended Isothermal over the last two years and enroll at GWU in a full-time enrollment status to receive the grant.  The grant can be combined with other institutional aid up to the cost of tuition.
 "These agreements represent our commitment to our community and students from the point of connection through the entire educational journey and the transition to the workplace," said Dr. Margaret Annunziata, Isothermal's president. "We are very excited about this partnership and what it will mean for our community."The nursing agreement lets an Associate Degree Nursing student at Isothermal seamlessly transfer into the BSN and MSN programs at Gardner-Webb.For more information, prospective students should contact the ICC Admissions Office at admissions@isothermal.edu (828-395-4193) or Tobie Tate in the GWU Office of Undergraduate Admissions at ttate1@gardner-webb.edu  ( 704-406-2171).