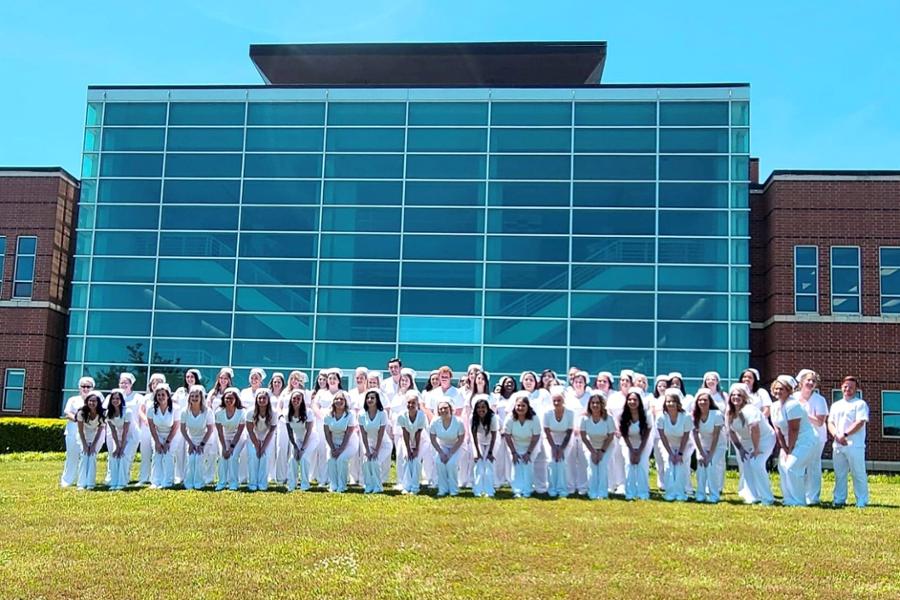 Associate Degree Nursing students pinned during special ceremony
By: Mike Gavin
Published: May 12, 2022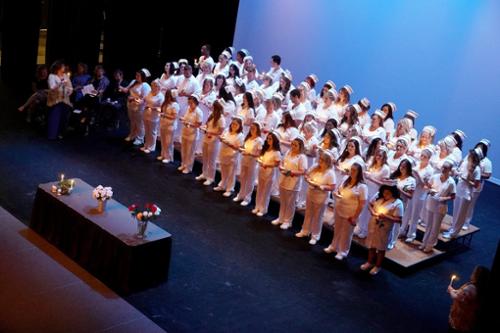 SPINDALE (May 10, 2022) – Seventy-three Foothills Nursing Consortium nursing students were awarded their pins at a special ceremony this week.
The Pinning Ceremony, held at The Foundation Performing Arts and Conference Center at Isothermal Community College, is the traditional graduation event for the students in the Associate Degree Nursing program. The consortium is a joint effort between Isothermal, Cleveland Community College and McDowell Technical Community College.
The graduates of the 2022 class are Katie Marie Adams, Kevonna Baptiste Allen, Aleiza Anderson, Ryan Carl Bailey, Cyndal Azalea Bandy, Kristy Lynn Barbeau, Hunter Elizabeth Bell, Alexis Ellen Bennett, Alexandra Nicole Bigard Ray, April Renee Blanton, Michaela Nicole Brackett, Mary Christine Bright, Tyler Bryan, Sarah Elizabeth Bumgarner, Twanissa Chantel Burch, Jovantae D. Burnam, Kelsi Withers Callahan, Jensen Halee Cauthen, Drew Harrison Clark, Amanda Cleary, Kennedy Brooke Clontz, Haleigh Nicole Cobb, Christine Camille Connor, Kimberlee Farris Cook, Frederick Crane, Claire Elizabeth Deyton, Lamina Lail Duckworth, Elizabeth Brooke Edens, Seth Finch, Ashley Lauren Gantt, Ashley Lynn Goforth, Makeylia Valicity Goins, Autumn McCauley Grant, Elena Gyoerkoe, McKenzie Hamrick, Elijah Cole Henderson, Faith G. Hunt, Kristen Nicole Johnson, Kenady Montana Juzwick, Jacqueline Marie Kelly, Lewis Aaron Logan, Hailey Marie Maresh, Leah Jamaria McKinney, Katelyn Rudisill McSwain, Kemberly Fortunato Melendez, Erika Brooke Moore, Nicole Moore, Madison Victoria Morrow, Christina Renea Nalley, Carlos Ochoa-Granados, Natosha Dawn Pack, Aurora Brielle Parker, Gracie Elisabeth Patrick, Bryan Alexander Patterson, Jessica Lauren Pogue, Brooke Sara Marie Priester, Dianna Rodriguez, Jessica Harlie Sherman, Chelsey McMurry Skinner, Ritchel Allyson Smith, Kendall Griffith Swartz, Hannah Dorsey Terry, Karlee Dalton Vess, Samantha Rose Waisman, Hannah Elizabeth Walker, Tiffany Nicole Washburn, Brandy Waters, Tyna Marie Waters, Melissa Marie Wermuth, Wendy Renee Whitt, Elizabeth Araminta Wooten, and Melinda LeJoy Young.
Dr. Margaret Annunziata, president of Isothermal Community College, welcomed the audience. Graduate Tiffany Ingle made remarks to her classmates.
Dr. Kim Amos, FNC director, presented the awards with the assistance of Dr. Penny Cross, vice president of McDowell Tech, Dr. Becky Sain, vice president of Cleveland Community College, and Dr. Greg Thomas, vice president of Isothermal Community College.
Melissa Marie Wermuth received the Spirit of Nursing Award. Carlos Ochoa-Granados received the Clinical Excellence Award, while Elizabeth Brooke Edens earned the Academic Excellence Award and Elijah Cole Henderson was named Overall Outstanding.
Amos also conducted the pinnings and lit the Nightingale lamps with the assistance of instructor Marian Price and Judy Melton, McDowell's dean of Arts and Sciences.
The ceremony closed with music by Chris Rice and Kathy Troccoli and a benediction by class member Melissa Wermuth.
For more information on the Associate Degree Nursing program, contact Amos at 828-395-1762.