Commissioners declare April as ICC Month, hear of positive impacts 
By: SCOTT CARPENTER, Daily Courier Staff Writer
Published: April 07, 2022
NOTE – The Polk County Board of Commissioners also named April as Isothermal Community College Month on Monday. It will hear about the economic impact report later this month. 
This report was originally published in the April 6, 2022, edition of The Daily Courier of Forest City. It is used here with permission.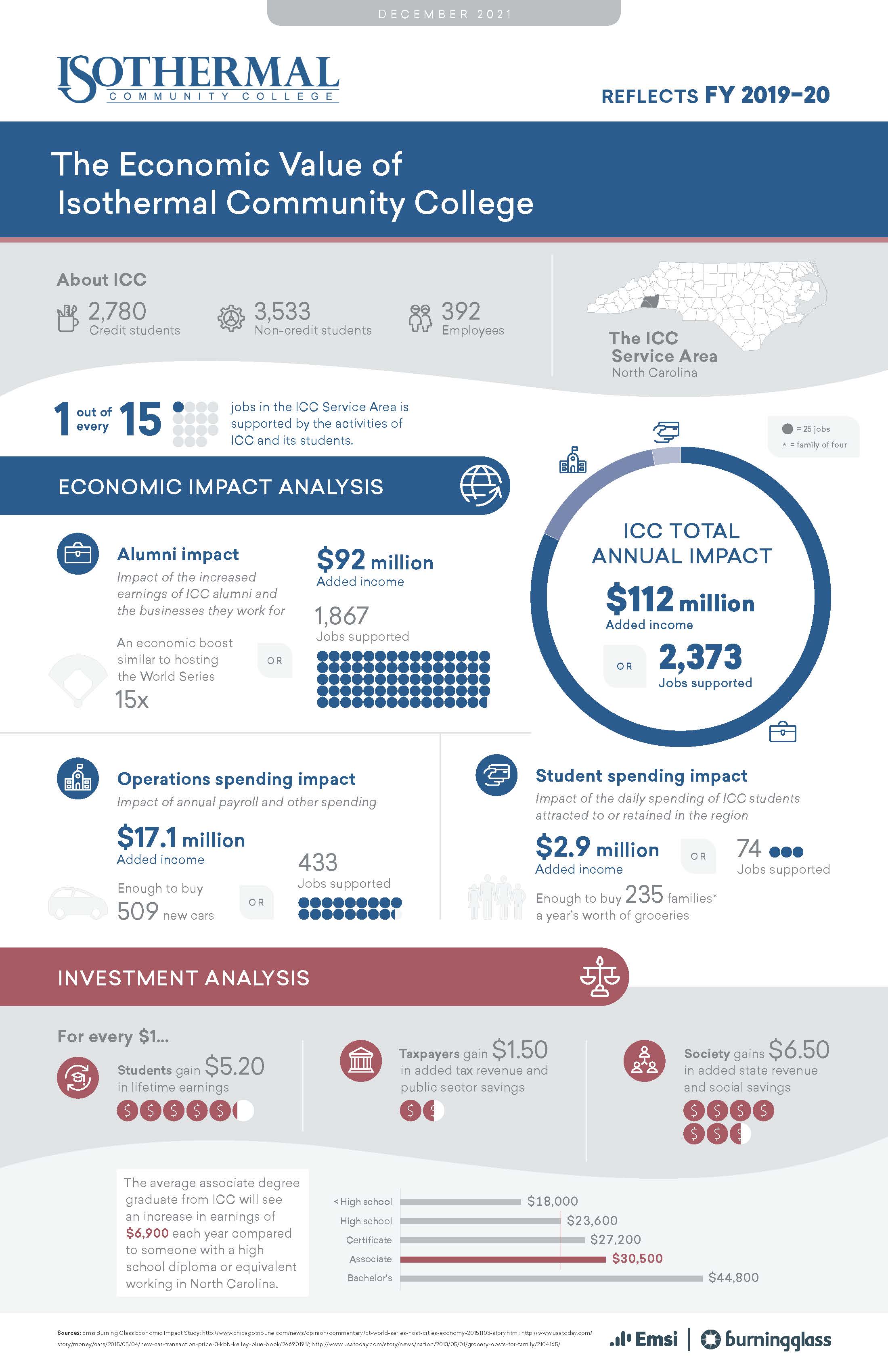 RUTHERFORDTON —Isothermal Community College's (ICC) annual economic impact on Rutherford and Polk counties, is $112 million; and includes supporting 2,373 jobs. 
With this in mind, on the request of ICC President Margaret Annunziata, the Rutherford County commissioners adopted a resolution designating April as ICC Month. Annunziata appeared before the commissioners at their meeting Monday night. 
"We are a community partner, focused on improving life through learning," Annunziata said. 
Annunziata gave an overview of a recent economic impact study for ICC, conducted in late 2021. 
The study used data from the fiscal year 2019-2020. According to the study, around 21% of students attending ICC originated from outside the region, while some relocated to the ICC service area in order to attend the college. These may not have come to the area if the college did not exist. Some in-region students would have left the area if not for the existence of the college. 
While attending ICC, these students spent money on groceries, accommodations, transportation and other household expenses. 
The education and training ICC provides for regional residents also has a great impact. Today, thousands of former ICC students are employed in the area. As a result of their education from ICC, the students receive higher earnings and increase the productivity of the businesses that employ them. 
In fiscal year 2019-2020, ICC alumni generated $92 million in added income for the regional economy, which is equivalent to supporting 1,867 jobs. 
According to the study, one out of every 15 jobs in the ICC regional is supported by the activities of ICC and its students. 
And, from a student perspective, the study indicates that the average associate degree graduate from ICC will see an increase in earnings of $6,900 each year compared to a person with a high school diploma or equivalent working in NC. The average annual return for ICC students is 27.4%. 
From a taxpayer perspective, the impact study shows that for every dollar of public money invested in ICC, taxpayers will receive a cumulative value of $1.50 over the course of the student's working lives. 
"Society as a whole in NC benefits from the presence of ICC in two major ways," the study states. "Primarily, society benefits from an increased economic base in the state. This is attributed to the added income from students' increased lifetime earnings and increased business output, which raise economic prosperity in NC." 
Commissioners thanked Annunziata for her efforts and agreed that ICC is an important asset serving Rutherford and Polk counties.