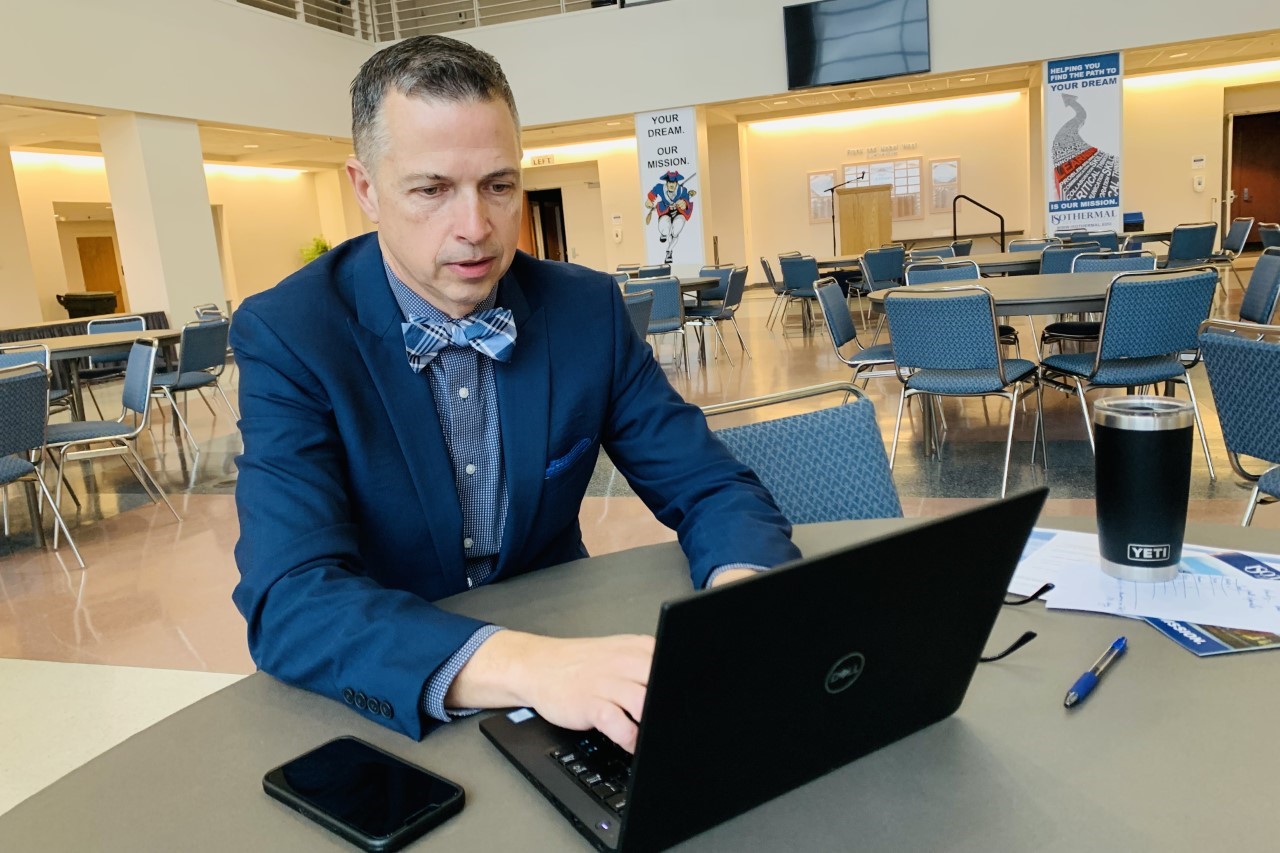 Harrill will lead expanded Isothermal development efforts
By: Mike Gavin
Published: February 04, 2022
SPINDALE (Feb. 4, 2022) – Dr. Thad Harrill has been named chief development officer of Isothermal Community College, Pres. Margaret Annunziata said Friday.
Harrill will oversee the college's Rutherford and Polk foundations, which support innovative programming, scholarships, and other activities at the college. This move is designed to put an emphasis on resource development, partnerships, and fundraising to greater impact Isothermal's mission.
"One of Thad's great strengths is his ability to develop relationships," said Dr. Margaret Annunziata, Isothermal's president. "This position is designed to capitalize on that strength and to bring greater resources to the college, so we can better serve our students and our community. Isothermal has a great story to tell and we believe Thad is the one to tell it far and wide."
Harrill has been Isothermal's vice president of Community and Workforce Development since 2009. In that role, he supervised the college's Continuing Education, Customized Training, Small Business Center, and Polk Center areas. He also led the college's grantwriting efforts, the alumni association and the two non-profit foundations.
"The Rutherford and Polk foundations conducted a strategic planning process during the past year," said Annunziata. "What became very apparent is that we need someone at the helm of the college's fundraising and development efforts in a full-time capacity. Dr. Harrill is that person. These areas have been part of his responsibility for years. However, our boards of these foundations, along with our trustees and executive staff, believe greater focus on these areas will significantly increase value and opportunity for the college and those it serves.
"The funding Isothermal receives from the state, though much appreciated and critical in supporting basic operations, doesn't allow for innovation, program development, and responsiveness to community needs at the speed of business, which is necessary to prepare our students for the careers of the future."
Harrill said he is excited about the change.
"Serving the people of Rutherford, Polk, and for that matter, the people of North Carolina, is one of the great joys of my life," he said. "My hope is to continue to excel in making things better for students and stakeholders by connecting with folks and organizations who wish to be a significant part of fulfilling Isothermal's mission."
The work of the college's foundations is increasingly important to the programming and opportunity Isothermal brings to the community, Harrill said.
"My objective is to lock arms with our president, foundation board members, and college trustees to further shine a light on the value Isothermal creates," he said. "As we do that, we believe alumni, community stakeholders, residents, businesses, and industries around our region will want to be a part of spreading the impact of Isothermal as far as possible."
The leadership of the college foundations sees the move as a positive as well.
"With this new structure and the time it will allow Dr. Harrill to dedicate to the foundations, I believe he will really move the needle on what we can accomplish," said Leon Godlock, chair of the Isothermal Community College Foundation. "I think great things are going to start happening for our college. Why wouldn't you want to support the college when you are in partnership with someone like Thad?"
Joe Crowder, chair of the ICC-Polk Center Foundation shared similar views.
"I was very pleased to hear of Dr. Harrill's appointment to the newly-created position of Chief Development Officer at ICC," said Crowder. "I have worked with him for several years through the Polk Center Foundation and have always found him to be a most competent and dedicated administrator. I look forward to working with him in his new capacity and anticipate that his effective leadership will help to coordinate and, where feasible, consolidate the community awareness and fundraising efforts of the Spindale and Polk campus foundations."
Annunziata said some of the areas previously supervised by Harrill – Continuing Education, Adult High School, Customized Training, and the Small Business Center – will be incorporated into the area of Dr. Greg Thomas, vice president of Academic and Student Affairs. The grant writing and administration area will remain with Harrill.
"The alignment of short-term industry training, occupational education, and adult high school programs with our curriculum areas makes sense and will allow us to work more effectively to meet students where they are and support them in achieving their goals. Ultimately, we are confident that these changes will help us help the community," said Annunziata.