ICC nursing program endorsed by state  
By: Mike Gavin
Published: January 13, 2022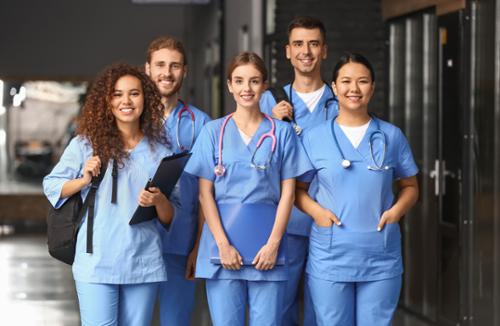 SPINDALE(Jan. 13, 2022) --The Associate Degree Nursing program at Isothermal Community College was approved by the North Carolina Board of Nursing today.
The college has offered the program for more than 25 years as part of the Foothills Nursing Consortium. However, the member colleges of that partnership decided recently it was best to move forward with independent programs.
"This will give us the opportunity to better serve our nursing students in Rutherford and Polk counties by focusing on the needs specific to this area," said Dr. Kim Amos, Isothermal's ADN director. "It will mean shorter travel times for students in clinical settings and enhanced individualized instruction with the expansion of technology and integrated simulation experiences."
Students will begin in the standalone program in August of this year.
"We are very excited to have earned the North Carolina Board of Nursing's approval for this program," said Ava Yamouti, dean of Health and Public Services at Isothermal. "Nursing is a wonderful profession for so many dedicated and caring professionals. The pay has never been better and the demand for new nurses is higher than ever. We are so pleased we are able to serve our community by helping our students attain a rewarding career."
According to the U.S. Bureau of Labor Statistics, the average annual salary for a registered nurse with an associate degree is $64,850 in North Carolina. Registered nurses can work in a wide variety of healthcare setting from hospitals and medical offices to hospices and long-term care facilities.
The bulk of the nursing classes take place at the Rutherfordton Learning Center, which has recently been outfitted with state-of-the-art simulation and training equipment.
"This program offers immense value for our students and the health care systems within our region," said Isothermal's president, Dr. Margaret Annunziata. "The instruction is top notch, and residents of Rutherford and Polk counties can attend tuition-free with the Powers Promise. With so much support for students and so many opportunities for graduates, now is the perfect time to pursue a degree in nursing."
Students can start the application process for Fall 2022 now.
To learn more about the program, contact Dr.Amos atkamos@isothermal.eduor 828-395-1741. You may also contact Tina Porter, the college's pre-health sciences advisor, at tporter@isothermal.edu or 828-395-1621.
Category: Curriculum