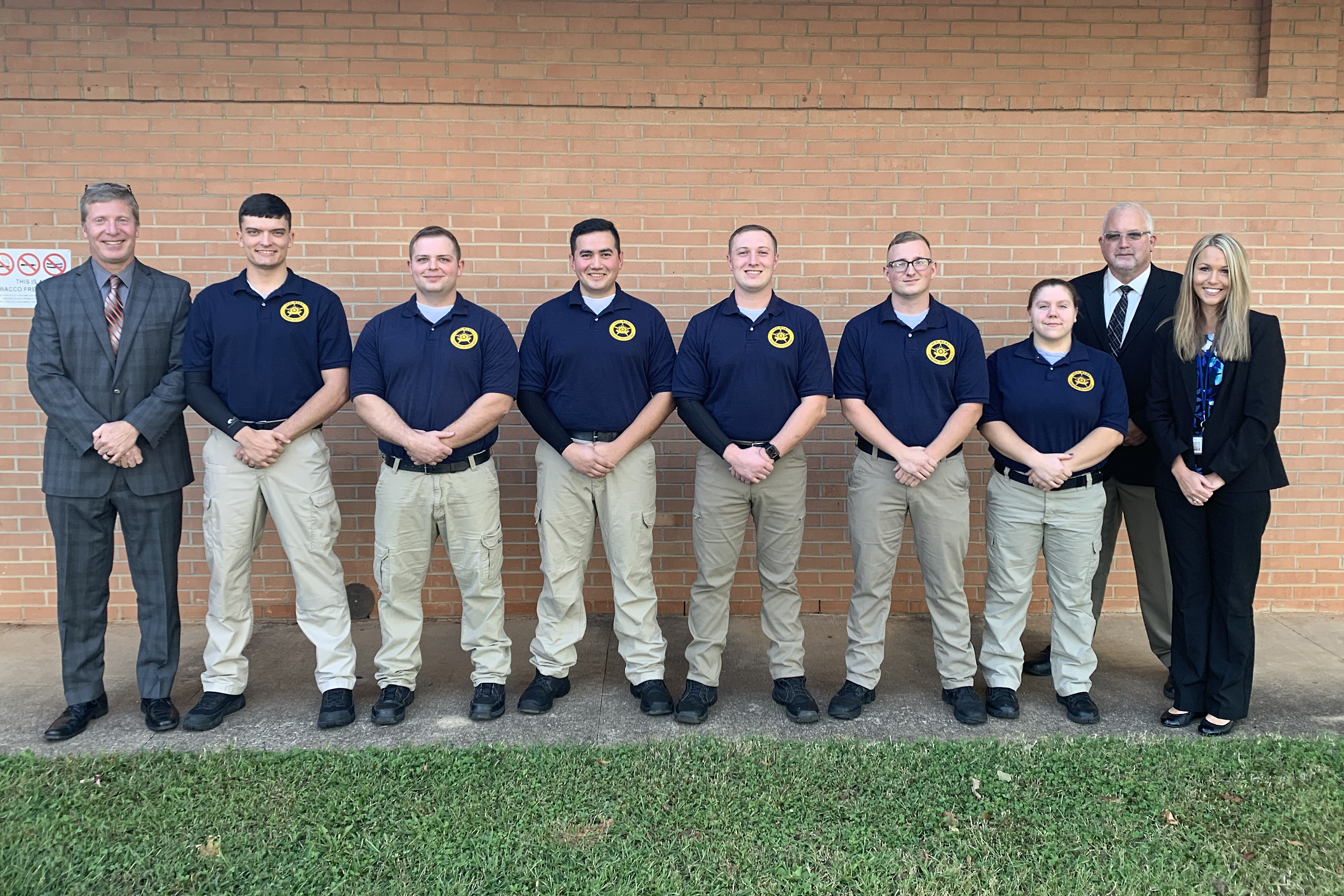 Seven students graduate from Basic Law Enforcement Training
By: Mike Gavin
Published: October 21, 2021
SPINDALE (Oct. 18, 2021) – Seven students graduated from the Basic Law Enforcement Training (BLET) program at Isothermal Community College on Monday evening after completing nearly ten months of training.
The BLET program is the state-mandated course of study for anyone interested in becoming a certified law enforcement officer. The students who completed the program were trained in 35 topics including criminal law, arrest, search, and seizure, driver training, defense tactics, firearms, and other related law enforcement topics.  
The students who earned a graduation certificate for the 673-hour training program are Austin G. Coggins, Daniel W. Edwards, Justin L. Haney, Robert M. Hoyle, Ethan J. Killeen, Kelly M. Schuh, and Josh C. Tuffill.  
The students were honored in a ceremony that began with an invocation by Stephen Matheny, Isothermal's vice president of Administrative Services. Dr. Greg Thomas, vice president of Academic and Student Affairs, welcomed the audience.   
Dr. Margaret Annunziata, the college's president, presented a special award of appreciation to Randy Greenway, who is retiring as one of the instructors of the program after serving many years. 
Greenway, an alumnus of ICC who completed the BLET program here in 1984, was police chief in Rutherfordton until 2005. He became a BLET instructor in 1988 and has taught portions of nearly every class since then. 
Upon retirement from the Rutherfordton Police Department, Greenway became a special agent with the North Carolina State Bureau of Investigation. In that role, he eventually became the agent-in-charge of a multijurisdictional drug task force, based in Buncombe County. 
He was named Isothermal's Outstanding Alumnus in 2005.  
"Randy has served our community and our state well," said Annunziata. "We are particularly appreciative of all of the lives he has touched here at the college in more than three decades of instruction for law enforcement professionals." 
Greenway delivered the commencement address to the students before instructors Philip Bailey and Thomas Tarker presented certificates and awards. 
Ava Yamouti, dean of Health and Public Services, made the closing remarks. 
All the graduates earned certificates in Basic Law Enforcement Training, ASP/Baton, Taser and Pepper Spray. 
Justin Haney was recognized with the Academic Excellence Award and the Top State Exam Award. Robert Hoyle earned the Top Firearm Award and the Standard of Excellence Award. 
This is the 81st BLET class to graduate from Isothermal Community College since it began conducting the training in the late 1970's.  
The next BLET class begins soon. For information, contact Brenda McFarland at 828-395-1668 or Bailey at 828-395-1644. 
Category: Spindale Campus