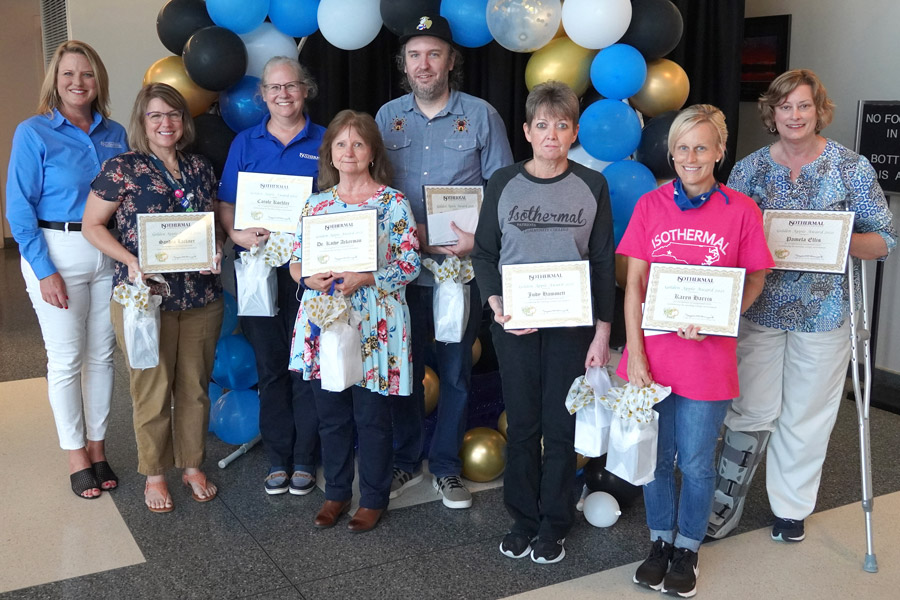 Awards Ceremony Highlights ICC Convocation 
By: Mike Gavin
Published: August 20, 2021
SPINDALE (Aug. 18, 2021) – A dozen Isothermal Community College staff and faculty members were recognized this week for making outstanding contributions to the institution's learning environment. 
The Willard L. Lewis Staff Award, the Tanner Awards, and the Golden Apple Awards were presented Monday when faculty and staff gathered for Convocation 2021 at the Foundation Performing Arts and Conference Center. A special posthumous Willard L. Lewis Staff Award was presented Tuesday at a Celebration of Life for Debbie Puett, the late dean of Academic Development and the Advising Center who passed away earlier this year. 
The Golden Apple Awards, given since 2006, were developed by Isothermal's Learning Strategies Taskforce as a way to recognize college employees who "dedicate their time and talents to create a college environment where learning can flourish." 
The Golden Apple winners were Kathy Ackerman, Pamela Ellis, Judy Hammett, Karen Harris, Matthew Humphries, Tangie Jones, Carole Koehler, Sandra Lackner, and Debbie Whiteside. 
The Tanner Awards were presented to Matthew Humphries and Karen Harris. Vice President Thad Harrill presented the Tanner Awards.
The Tanner family has been involved with Isothermal since the college's beginning. S.B. Tanner, Sr., was one of the early supporters of the effort to create the college. His son, the late Jimmy Tanner, was named to Isothermal's first Board of Trustees in 1964. He continued to serve as a trustee until 2007, distinguishing himself as the longest serving member in the history of that body.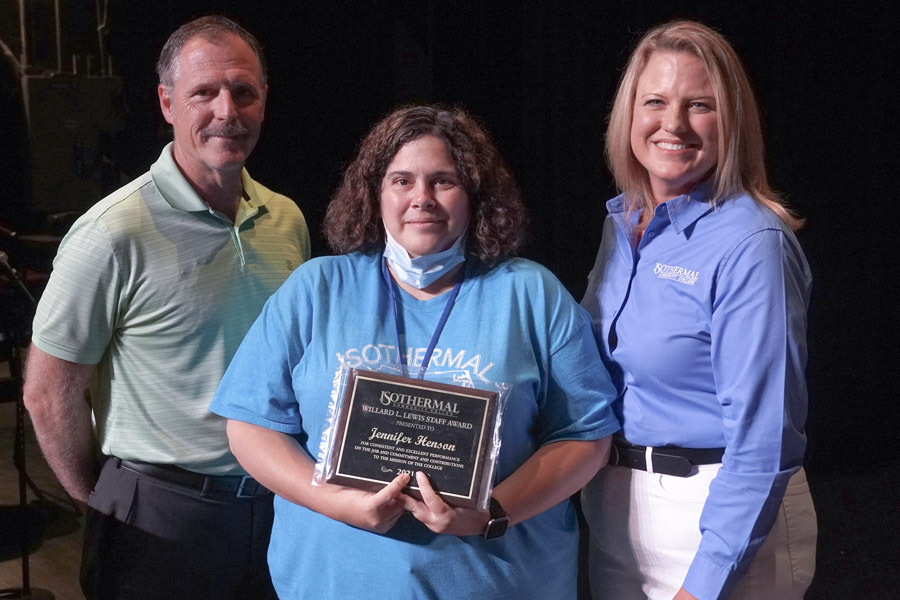 The Lewis Award was presented to Jennifer Henson, the administrative assistant of Arts and Sciences. 
That award is named for Dr. Willard L. Lewis, the college's former president, who placed a great emphasis on the importance staff plays in Isothermal's mission to "improve life through learning." 
Henson has been nominated multiple times. This time, every faculty member in Arts and Sciences voiced appreciation for her work.
"Her work ethic, pride, and drive to always put the needs of others before her own are exemplary every day, no matter the situation," said Stephen Matheny, vice president of Administrative Services, as he presented the Lewis Award. "She is a professional with dignity, grace, and care."   
The Golden Apples were presented by Dr. Greg Thomas, Isothermal's vice president of Academic and Student Affairs.
President Margaret Annunziata was on hand to congratulate all of the recipients. She also presented a gavel to Roger Jolly, who has served two years as the chairman of the Isothermal Board of Trustees.
Erin Balmer, the English instructor who is also the advisor of the campus's Phi Theta Kappa honor society chapter, was presented an excellence award from that organization.
The Golden Apple Award Committee made the selections on criteria including the exhibition of a commitment to excellence; the nurturing of a climate of integrity, care, and respect for individuals; demonstration of initiative to resolve problems or improve processes that benefit the college; demonstration of a cooperative spirit and willingness to help others that exceeds job expectations; and serving as an inspiration to others. 
The citations for the recipients follow:
Dr. Kathy Ackerman, Dean of Arts & Sciences
Essentially, Dr. Ackerman devotes herself tirelessly, in a variety of ways, to improving life through learning. During this last year with COVID and all of its many obstacles which have been created because of it, I have observed Kathy lend an ear when needed, be flexible, be open to various course deliveries, all while consistently keeping the safety of her faculty and staff in mind. If she sees this, I hope she understands that many of "her people" appreciate this more than she may realize. We have regular meetings after our division meetings, and we work together to improve processes and resolve problems within our respective areas.
Dr. Ackerman has worked diligently to assist in numerous ways with the fifth-year SACS report. She also serves on various additional groups, such as the One College taskforce. She devotes herself fully to efforts which improve the college in any fashion.
By establishing and overseeing the lead instructor process for Arts & Sciences, Dr. Ackerman has promoted and inspired a "lead from within" approach to six full-time faculty within the division. Her willingness to delegate, through means of empowering her faculty to perform appraisals on adjuncts within their assigned areas, is inspirational as it displays leadership at its finest.
Pamela Ellis, Director of Financial Aid
Pamela is always caring and attentive to the questions I have regarding my students and financial aid benefits. Financial aid can be a beast, but Pamela makes it feel like an attainable topic in the way she explains things. Pamela is always quick to return any calls or emails that I leave for her and you can tell her passion for the students.  She also has a passion for Isothermal Community College.  Pamela makes herself readily available to answer questions and solve problems where she can within the financial aid arena. She is always friendly and helpful to students and employees.  Pamela is more than willing to take time to explain policies and procedures with financial aid, even if it is the third time I have asked the same question! Pamela makes me feel comfortable and knowledgeable discussing the needs of my students.  Pamela makes sure that I understand what financial aid is able to do for my students so that I can have a knowledgeable conversation with them.  She is dedicated to her job and it shows in all that she does.
Judy Hammett, Custodian
Judy takes great pride in the new Walter Dalton Engineering Technology and Workforce Development building. Judy keeps the brand new building in showcase condition. She is always available to help with anything that is asked of her and always has a smile for anyone that she comes in contact with. She talks to the instructors and wants to know if they would like her to do anything special in the classroom. Judy is first to take the initiative to improve outdated processes or procedures in the operation of the Dalton building. She is creative with solutions to fix problems that arise daily such as a leak in the roof. She is also innovative and always looks to improve the efficiency for the building. Judy is instrumental in celebrating achievement of others. She will not let the success of others go unnoticed and that speaks volumes. She puts the most effort into retirement parties and other celebrations in the building which in turn contributes to the synchrony of the departments housed in the here. Judy comes in everyday with a positive attitude that is contagious. She works efficiently. She is always looking to help others. Judy is a bright light that shines within her building and across campus.
Karen Harris, Advising Coordinator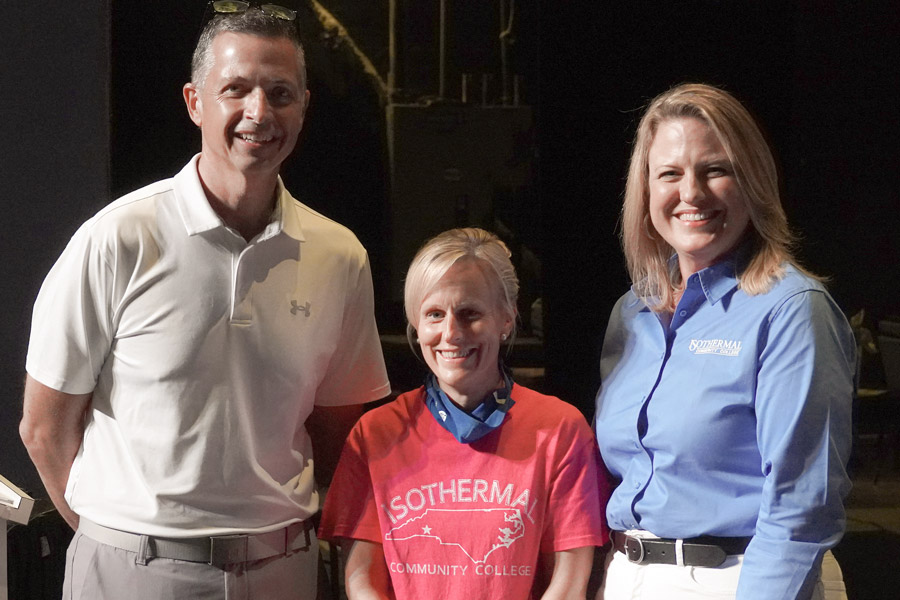 Karen provides exceptional customer service and support to students, faculty, and staff. She gives every individual and situation her complete and undivided attention until it meets her high standards of excellence. She is eager to learn and please those with whom she comes in contact.  Her love for people and this college is evident in how she treats others. Karen never feels like she's done enough and continuously works to help improve the lives of those she encounters.
Karen is dedicated to seeking out opportunities to identify barriers to student success. She is always thinking of ways to make processes better for not only students but her colleagues as well. On many occasions, Karen has gone above and beyond the role of an Advising Coordinator. She schedules appointments with students beyond the college's normal operating hours in order to ensure they receive the assistance needed to enroll or remain enrolled at Isothermal. She has definitely exceeded her job expectation this past year. She has taken on roles that are beyond an Advising Coordinator and, because of this, she is well respected and needed here at ICC. Karen's skills, knowledge, willingness to help others, and dedication to Isothermal, makes her a true example of what the Golden Apple Award represents.
Matthew Humphries, English, Religion & Humanities Instructor & Global Distinction Program Coordinator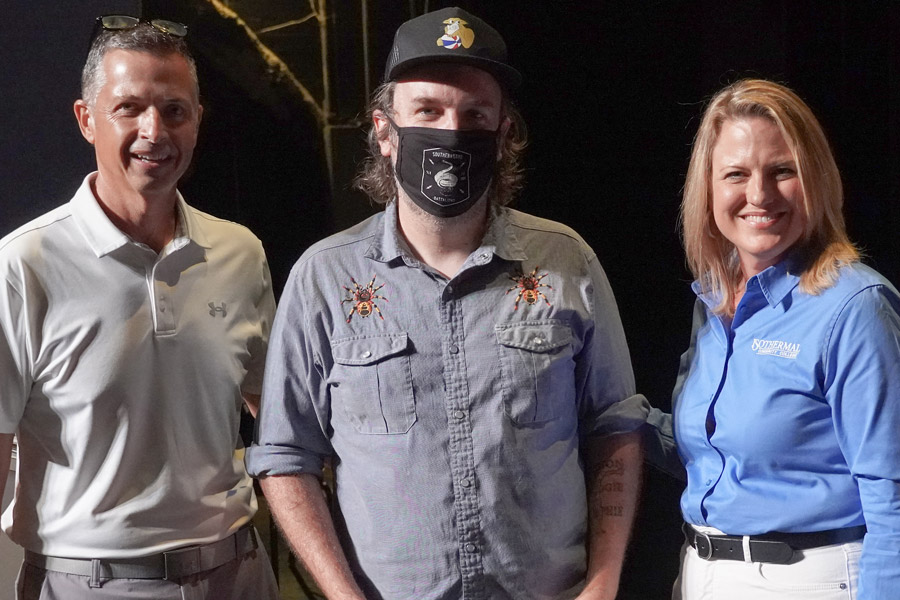 Matthew is a wonderful instructor whose lessons are globally diverse whether he is teaching English, Religion or Humanities courses. He has the interest of the students always in mind and holds them to a high standard. If students take Matthew's class once, they seek him out to take another because he makes learning challenging and fun. Matthew is also a great leader for the Global Distinction Program where he tirelessly helped to organize the first student trip to Ireland. Due to COVID- 19, the trip had to be cancelled but Matthew kept the program going by creating alternatives for students to join in with Global Distinction through informational flyers; the Irish author for Book Club; a related Irish movie to watch, enjoy and discuss; focused speakers; food celebrations; and focused Global Distinction workshops. He has also created a new course: HUM 130: Myths & Monsters (a course that can connect to GD), as well as organized and participated in endless meetings to make the campus connections to help the program. He is also a pleasant colleague.  He keeps student learning at the forefront of his classes.  Students are important to him and you can see it in the way he leads.
Tangie Jones, Enrollment Specialist
Tangie is always kind and helpful when I have any issue.  No matter what issue comes up Tangie is always available, and willing to help. Major projects do not rattle her. She is willing to do her best every day to assist you on any issue you have.  She is always willing to help you problem solve and if she cannot help, she will get you headed in the proper direction.
She treats others with the highest level of respect no matter if they are a new student, returning student, or an employee.  The feelings and problems of others matter to her.
Tangie is always first to volunteer to help resolve any issue that comes up. She will go out of her way to make sure issues have been fixed and she will try to put preventative measures in place to avoid it from coming up again. Tangie will help anyone that comes in with any question they have. No question is too big or too small. She is very patient with everyone, and she speaks very calmly to them.She is very uplifting and positive. She can always see the bright side of things. For these and many other reasons Tangie is deserving of the Golden Apple Award.
Carole Koehler, Practical Nursing Instructor
Few people are more committed to excellence in education and nursing than Mrs. Carole Koehler. Carole takes extraordinary measures to ensure that students in the Practical Nursing program receive a high-quality and safe educational experience that will prepare them for nursing practice including successfully passing the nursing licensure examination. She holds our students accountable while providing lots of "tough love," support, and encouragement. After the COVID-19 shutdown, Carole personally touched base with each student every day to ensure that they were safe, learning, and had everything that they needed. During the COVID-19 pandemic, Carole has developed novel assignments that encourage participation and interaction, keeping the students engaged when distance learning was required. Carole is always willing to lend a hand to her team members and is always working to keep the team informed of developments that may affect any aspect of Practical Nursing courses. She holds herself, her team, and her students to high standards and encourages us all to strive for our very best selves.  When you think of MVP, Carole Koehler should come to mind. If something needs to be done, be assured that Carole will take care of it. And she is always up for a dance party in the classroom!
Sandra Lackner, Dean of Students
Sandy has many different tasks and duties across campus that keep her extremely busy on a daily basis. She is typically the first person in the office and the last one to leave. Even though her days are packed, she still manages to give her time graciously and genuinely to each person she speaks with and always checks back in with them on any issues they may have. Sandy's door is always open. There is no problem too large, or too small for Sandy. Sandy always has a smile on her face. If you make a mistake she does not judge you for it, she works with you to make sure that you understand what happened and how to improve. Sandy sets an example for her team and others in the campus community of professionalism, care and respect. She is inclusive of individuals of all backgrounds. She builds a safe environment for students and staff that makes them comfortable seeking guidance and assistance. Sandy is consistently reaching out to students to check in on their progress and needs. Sandy will stay late and work on projects that aren't even her responsibility to make sure that your needs are being met. She is the true definition of a good leader.
Debbie Whiteside, Custodian
Debbie's attention to detail is unmatched, she makes sure her buildings are cleaned and maintained daily. She not only does her job, she goes that extra step to make sure it is done correctly and efficiently. Debbie is always willing to help others, no matter the task. She is a mentor to the other Custodian staff and inspires them and others around her by showing them her strong work ethic. Debbie is very proactive in her job duties, she takes the initiative to find out the room schedules so she knows when she can get into each classroom to clean. She is always looking for ways to do things better and more efficiently. She is a real team player, she is openly concerned about her coworkers and our students. She always has a smile for others. No matter the task we know we can always count on her to help. Debbie is someone we can rely on and always gives 110 percent. She is a true asset to the Isothermal. She exhibits caring and kindness to all and inspires all of us to try and do the same. Debbie would be a wonderful recipient of the Golden Apple Award.
Category: Awards