ICC will power community with $30,000 grant from Duke Energy Foundation
By: Mike Gavin
Published: July 28, 2021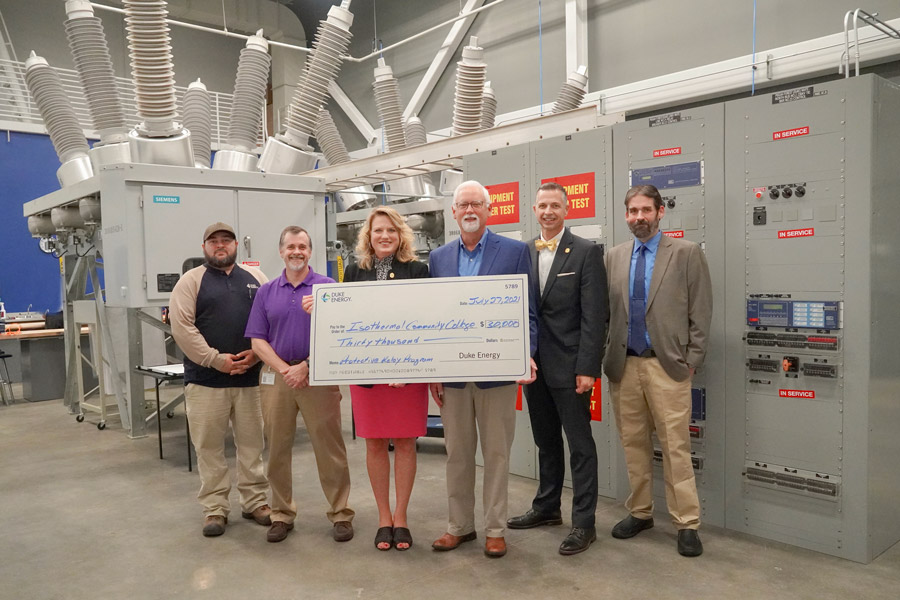 SPINDALE (July 28, 2021) — Isothermal Community College received a $30,000 grant from Duke Energy Foundation to create powerful communities in Rutherford and Polk counties through the Protective Relay Education Project.
Isothermal Community College is one of 19 organizations to collectively receive $600,000 in Powerful Communities grants from Duke Energy Foundation.
"Isothermal Community College is very grateful to the Duke Energy Foundation for its generous investment in our Electronics Engineering Technology program," said Dr. Margaret Annunziata, Isothermal's president. "Our faculty are thrilled to turn this award into an opportunity for our students to improve their education and skills as Protective Relay Technicians entering the electric utility industry. These funds will bring to the classroom equipment and processes used in the testing and commissioning of substation switchgear and protective devices that improve the reliability of the power grid. The grant will be instrumental in helping Isothermal achieve our goal of providing the electric power industry with highly qualified and competent relay technicians."
These grants are part of Duke Energy's ongoing commitment to workforce development, which totals $6.3 million over the last five years. As North Carolina continues its clean energy transformation, the Duke Energy Foundation is investing in programs that will build the next generation workforce as well as create access to training and job skills that fit current community needs.
"I am excited that we are able to continue our support of this outstanding program," said Craig DeBrew, Duke Energy's Local Government and Community Relations Manager. "There are great opportunities in the energy sector and this investment in Rutherford County helps to bring highly skilled workers into the industry.  We are fortunate to have valuable and capable partners like Isothermal Community College."
The program started a few years ago with Duke's support and has resulted in quite a few graduates with rewarding careers.
"ICC and this program have meant a lot to me," said Tory Wheeler, an Isothermal alum and Duke transmission relay supervisor. "This program helped launch me into a great industry with an outstanding company in Duke Energy.  And I've been able to build my leadership skills through the years with Isothermal's continuing education programs.  I'm excited to see what the future holds."
The long partnership with Duke runs deep.
"Isothermal and Duke have partnered for years to serve our communities and students," said Dr. Thad Harrill, Isothermal's vice president of Community and Workforce Development. "This grant is yet another example of Duke's commitment to support workforce development in our region.  We at Isothermal are honored to link arms with Duke Energy to improve the lives of all we serve."
The Duke Energy Foundation's Powerful Communities program makes strategic investments to build powerful communities where our natural resources thrive, students can excel and a talented workforce drives economic prosperity for all. The Foundation annually funds more than $30 million to communities throughout Duke Energy's seven-state service area.
DUKE ENERGY FOUNDATION
The Duke Energy Foundation provides philanthropic support to meet the needs of communities where Duke Energy's customers live and work. The foundation contributes more than $30 million annually in charitable gifts, and is funded by Duke Energy shareholder dollars. More information about the foundation and its Powerful Communities program can be found at duke-energy.com/foundation.
Duke Energy (NYSE: DUK), a Fortune 125 company headquartered in Charlotte, N.C., is one of the largest energy holding companies in the U.S. It employs 30,000 people and has an electric generating capacity of 51,000 megawatts through its regulated utilities, and 3,000 megawatts through its nonregulated Duke Energy Renewables unit.
Duke Energy is transforming its customers' experience, modernizing the energy grid, generating cleaner energy and expanding natural gas infrastructure to create a smarter energy future for the people and communities it serves. The Electric Utilities and Infrastructure unit's regulated utilities serve approximately 7.7 million retail electric customers in six states – North Carolina, South Carolina, Florida, Indiana, Ohio and Kentucky. The Gas Utilities and Infrastructure unit distributes natural gas to more than 1.6 million customers in five states – North Carolina, South Carolina, Tennessee, Ohio and Kentucky. The Duke Energy Renewables unit operates wind and solar generation facilities across the U.S., as well as energy storage and microgrid projects
Duke Energy was named to Fortune's 2019 "World's Most Admired Companies" list, and Forbes' 2018 "America's Best Employers" list. More information about the company is available at duke-energy.com. The Duke Energy News Center contains news releases, fact sheets, photos, videos and other materials. Duke Energy's illumination features stories about people, innovations, community topics and environmental issues. Follow Duke Energy on Twitter, LinkedIn, Instagram and Facebook.
Category: Uncategorized