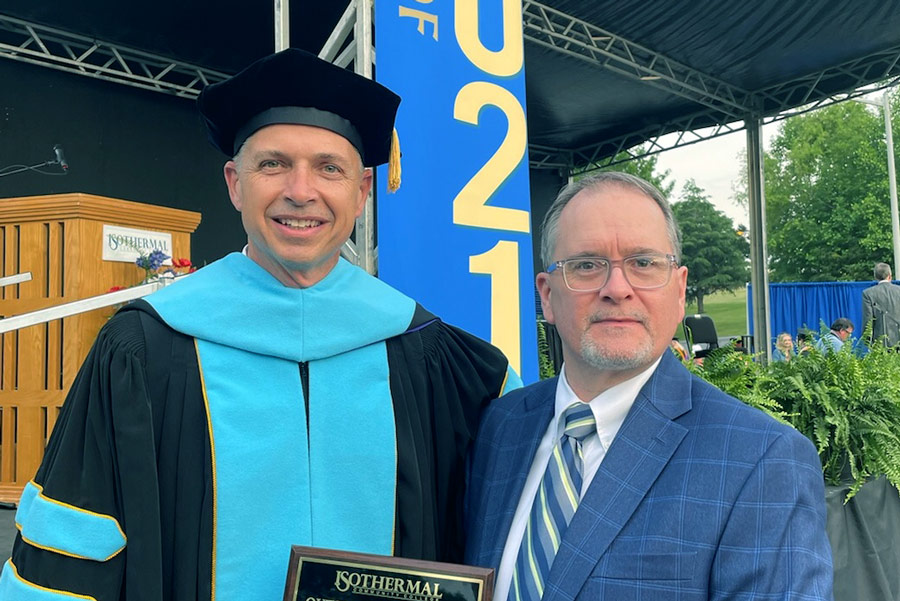 College names Lattimore this year's Outstanding Alumnus
By: Mike Gavin
Published: May 20, 2021
SPINDALE (May 18, 2021) — Robin Lattimore, a noted local author and historian, was named Isothermal Community College's 2021 Outstanding Alumnus at this week's graduation ceremony.
The award was presented by Dr. Thad Harrill, vice president of Community and Workforce Development, College Advancement, and director of Alumni Affairs.
Harrill said Lattimore was a very engaged student while at Isothermal.  He was a representative on the Student Government Association, editor of both our Student Newspaper (The Patriot) and the Student Yearbook while also serving on the staff for Isothermal's Student Literary Magazine (The Anuran), a member of the College Wind Ensemble and Phi Theta Kappa. Lattimore was named Who's Who Among American Junior Colleges and was also a Mr. ICC Nominee.
"Robin's dedication to this community has had a significant positive impact as he has spent the last 30-plus years contributing to the civic life and wellbeing of Rutherford County, and North Carolina," said Harrill. "He has served for the last 16 years as the President of the Rutherford County Historical Society and served for the last 4 years as Chair of the Rutherford County Historic Preservation Commission.  He also has served as Chair of the Rutherford County Library Board of Trustees and Norris Library Foundation.  From 2001through 2008, Robin served Rock Springs Baptist Church as an ordained Deacon and Minister of music.  He was also a board member of the Polk County Chamber of Commerce and was appointed to the North Carolina Regional Economic Development Commission by Governor James Martin in 1992."
Harrill said Lattimore has spent much of his professional/educational career working directly with students in an effort to increase reading and writing skills. 
"He has served as the high school librarian at Thomas Jefferson Classical Academy for the past 10 years," said Harrill. "Prior to that, he served as the coordinator of the Rutherford County Schools Children and Male Partnership sponsored by Head Start at the Carver Center. In that role, Lattimore worked directly with Family Services and the Department of Social Services to improve literacy and education in each family enrolled in the C.A.M.P. Program."
Past recipients of the award include Katlin Wright Mitchell, Robin Ensley, Ms. Barbara Callahan, Mark Crowe, Sarah Kilgo, Aaron Vassey, Alan Carver, and John Higgins.
Category: Awards, Uncategorized