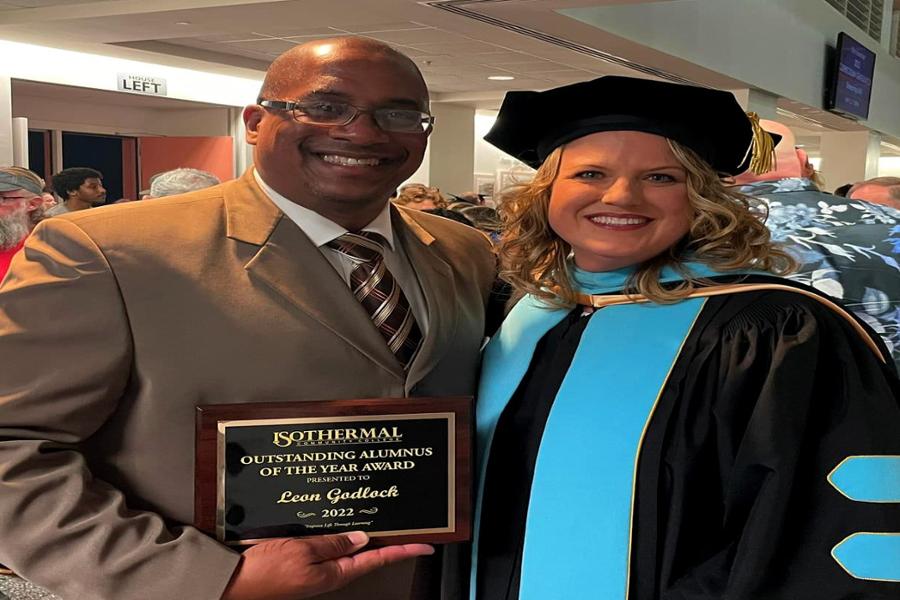 College names Godlock this year's Outstanding Alumnus
By: Mike Gavin
Published: May 20, 2022
SPINDALE (May 18, 2022) — Leon Godlock, a recently retired veteran of the Rutherford County Sheriff's Department, was named Isothermal Community College's 2022 Outstanding Alumnus at this week's graduation ceremony.
The award was presented by Dr. Thad Harrill, chief development officer.
Harrill said, while enrolled in the BLET program at Isothermal, Godlock was quickly acknowledged for his leadership and ability to encourage, motivate and challenge fellow teammates, who may have otherwise chosen to quit. 
"This early dedication to supporting others gave his classmates a glimpse at the kind of man he was then and who he would become over the course of his life," said Harrill. "He has embraced Isothermal's mission to improve life through learning by returning to Isothermal to help new and fellow officers with learning in the BLET program."
Godlock's commitment to his community is demonstrated by his service to many boards and committees.  He is a McNair mentor, mentoring students at R-S Central High School, R-S Middle, and the Rutherford Opportunity Center.  He serves as a board member for the Gateway Wellness Foundation and is currently the Chair of Isothermal's Foundation. 
He is a vocal advocate who has specifically pursued and encouraged funding to address issues in the area related to food insecurities, affordable housing, substance use issues, transitional living, and health access.  He is also a board member of The Foothills Health District which is responsible for protecting and improving the public's health in Rutherford, and McDowell counties.
"Leon is fondly known by many in the community as the PPP: Pistol Packing Preacher," said Harrill. "He is a licensed and ordained minister who through support and spiritual care has given countless hours to encourage others. For more than 18 years, he was a youth pastor and identifies that as some of the most momentous and rewarding times of his life."
Harrill detailed several more of Godlock's many activities before closing.
"Leon is committed to whatever he is assigned or given the opportunity to do," Harrill said. "He loves his community and has chosen to lead and do things others choose not to do. He is a servant leader who values people for who they are and for what they can individually bring to the table. Leon remains humble and enjoys seeing others rise from the ashes of life's challenges."
Past recipients of the award include Robin Lattimore, Katlin Wright Mitchell, Robin Ensley, Ms. Barbara Callahan, Mark Crowe, Sarah Kilgo, Aaron Vassey, Alan Carver, and John Higgins.