Nursing Students Administer COVID-19 Vaccines
By: Mike Gavin
Published: February 12, 2021
EDITOR'S NOTE-- Isothermal Community College is not administering COVID-19 vaccines as an organization. Our students are simply assisting the Foothills Health District. To find out more about receiving a vaccination, visit http://www.foothillshd.org
SPINDALE (Feb. 12, 2021) -- Foothills Nursing Consortium ADN students and Isothermal practical nursing students have stepped up to help public health authorities administer COVID-19 vaccinations.
The national rollout of COVID-19 vaccines brings hope to help end a pandemic that has cost the lives of thousands of Americans and crippled the U.S. economy.
With a high demand for swift vaccine inoculation, health care agencies across the country are reaching out to community college nursing programs to help meet this demand.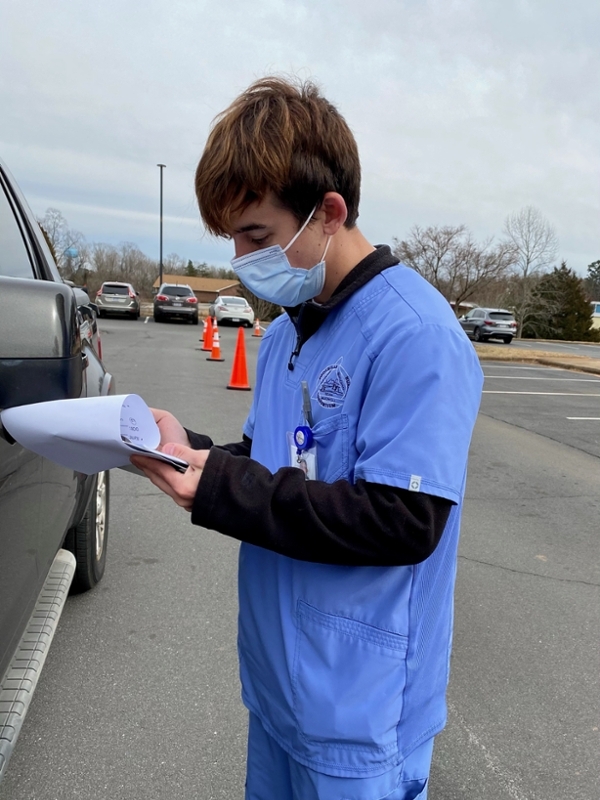 Assisting with vaccine administration provides an important and unique clinical experience for nursing students and is encouraged and endorsed by the N.C. Board of Nursing and the National Council of State Boards of Nursing, Inc. (NCSBN). 
"Not only does this opportunity allow nursing students to apply what they learn in the classroom to real life experiences, this also helps students gain confidence and give back to the community," said Dr. Kim Amos, who serves as the director of the Foothills Nursing Consortium.  
The consortium consists of Cleveland Community College, Isothermal Community College, and McDowell Technical Community College students and provides training in Associate Degree Nursing (ADN).
The FNC ADN students and Isothermal Community College Practical Nursing (PN) students have stepped up to answer this call for service. Both nursing programs are working together to assist the Foothills Health District located in in Spindale to schedule, prepare, administer injections, and document coronavirus vaccine administration. 
To date, these nursing students have helped to give over 2,000 vaccines.  
For more information about the ADN program, contact Dr. Kim Amos, FNC ADN Director at kamos@isothermal.edu or at 828.395.1741. For more information about the PN program, contact Stephanie Dennison, ICC PN Director at sdenison@isothermal.edu or 828.395.1762.
Category: Spindale Campus