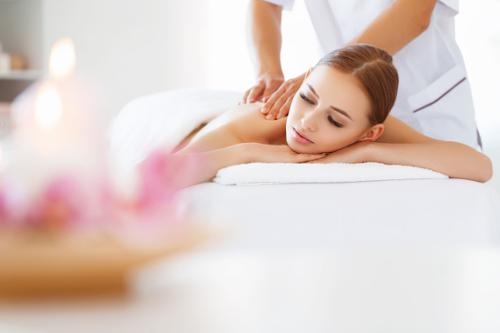 Massage Therapy Day Class Will Begin
By: Mike Gavin
Published: October 06, 2020
COLUMBUS (Oct. 6, 2020) –A new massage therapy day class will begin Tuesday, Jan. 5, 2020, at Isothermal Community College's Polk Center in Columbus. 
The seven-month program combines class time with hands-on practice of massage techniques. Coursework includes anatomy and physiology, kinesiology, nutrition, business practices, ethics and specific massage modalities. Upon completion graduates of the program may apply for the MBLex exam to practice therapeutic massage in the state of North Carolina. 
Massage therapists can work in a variety of settings from physician's offices to spas and hospitals to fitness centers. According to U.S. Bureau of Labor Statistics, employment opportunities for massage therapists are expected to grow 22 percent from 2018 to 2028, much faster than the average of all occupations. The median annual wage for a massage therapist in the United States was $42,820 during 2019. (Bureau of Labor Statistics, U.S. Department of Labor, Occupational Outlook Handbook, Massage Therapists, on the Internet at http://www.bls.gov/ooh/healthcare/massage-therapists.htm) 
The upcoming class will meet each Tuesday, Wednesday and Thursday from 8 a.m. to 5 p.m., with an hour for lunch, until July 2021. The cost is $180 plus books and supplies. For North Carolina students, financial aid may be available. There will be a mandatory orientation session in December. 
"This program is an outstanding value," said Karen Marshall, director of the Isothermal Polk Center. "We have wonderful instructors who teach to the highest standards. Our students are very successful in finding great jobs, often immediately after they are licensed and approved." 
This course prepares students to take the Massage Board Licensing Exam (MBLEX) and meets the standards to apply to the North Carolina Board of Massage and Bodywork Therapy (NCBMBT) to practice in North Carolina as a Licensed Massage and Bodywork Therapist (LMBT). Successful completion of the course and the MBLEX is also the first step in applying to multiple other states for a license to practice. 
Call 828-395-1100 to learn more about the program curriculum or to reserve your space in the upcoming class.
Category: Spindale Campus