Awards Ceremony Highlights ICC Convocation
By: Mike Gavin
Published: September 14, 2020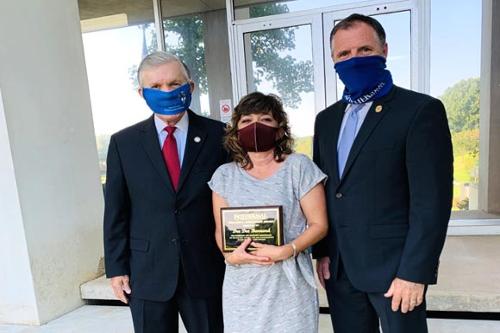 SPINDALE (Aug. 12, 2020) – Thirteen Isothermal Community College staff and faculty members were recognized this week for making outstanding contributions to the institution's learning environment. 
The Willard L. Lewis Staff Award and the Golden Apple Awards were presented Monday when faculty and staff gathered for a socially distant and face-covered Convocation 2020 at the Foundation Performing Arts and Conference Center. The winners of this year's Robert Wendell Eaves Distinguished Teaching Award and the Alumni of the Year – both usually given at the college graduation ceremony – were also presented. 
The Golden Apple Awards, given since 2006, were developed by Isothermal's Learning Strategies Taskforce as a way to recognize college employees who "dedicate their time and talents to create a college environment where learning can flourish." 
The Golden Apple winners were Philip Bailey, Reagan Bowman, Andrew Bradshaw, Laurie Ebert, Jo James, Melissa Johnson, Johnathan Jones, Tanya Jones, Rachel Mercantini and Marian Price. 
The Tanner Awards were presented to Johnathan Jones and Rachel Mercantini.  
The Tanner family has been involved with Isothermal since the college's beginning. S.B. Tanner, Sr., was one of the early supporters of the effort to create the college. His son, the late Jimmy Tanner, was named to Isothermal's first Board of Trustees in 1964. He continued to serve as a trustee until 2007, distinguishing himself as the longest serving member in the history of that body. 
The Lewis Award was presented to Dee Dee Barnard, the Administrative Assistant to the President and Director of Special Events. 
That award is named for Dr. Willard L. Lewis, the college's former president, who placed a great emphasis on the importance staff plays in Isothermal's mission to "improve life through learning." 
Barnard has been a devoted employee of Isothermal Community College since 2010. She is also and Isothermal alumna. She was described by co-workers as one who makes a positive difference in every level of the organization.  
"It is truly a gifted person who possesses the skill necessary to organize, negotiate, create, see the big picture while taking care of the smallest of details," said Stephen Matheny, vice president of Administrative Services, as he presented the Lewis Award. "Dee Dee is willing to learn new things, efficient in daily work, willing to assist others, whole hearted toward the College's success, loving and caring toward students and employees, has excitement which is contagious (in a good way), one who always goes above and beyond, unselfish, the most efficient at what they do, works well with others, a model for other employees, overall a valuable resource for Isothermal Community College."   
Vice President Thad Harrill presented the Tanner Awards to Jones and Mercantini before presenting the Alumni of the Year Award to Katlin Wright Mitchell, a 2013 graduate who serves as the teaching assistant in the Business Sciences Learning Lab. 
"She patiently assists students in reaching their academic goals," said Harrill. "Regardless of the situation, Katlin always acts and responds in a way that is professional, humble, and kind. No situation that arises in the lab catches her off guard. She seeks assistance for students that may need food, power, and water. She goes above and beyond to remove barriers for our students." 
The Golden Apples were given by Dr. Dolly Horton, Isothermal's vice president of Academic and Student Services. President Walter Dalton was on hand to congratulate all of the recipients. 
The Golden Apple Award Committee made the selections on criteria including the exhibition of a commitment to excellence; the nurturing of a climate of integrity, care, and respect for individuals; demonstration of initiative to resolve problems or improve processes that benefit the college; demonstration of a cooperative spirit and willingness to help others that exceeds job expectations; and serving as an inspiration to others.
Category: Spindale Campus, Awards
Keywords: faculty, recognition