ICC Nursing Students Assist with COVID Vaccine Clinic 
By: Mike Gavin
Published: July 21, 2022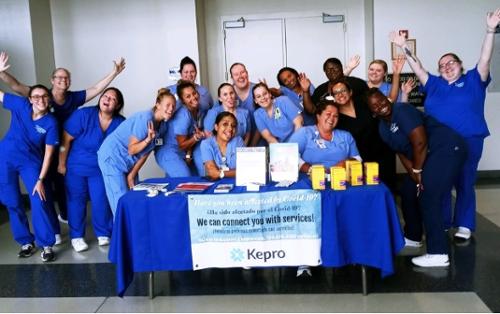 SPINDALE (July 21, 2022) -- Isothermal Community College nursing students assisted with a community COVID vaccine clinic earlier this month.  
The clinic was held at the main ICC campus in Spindale. The event was sponsored by Kepro and the vendor was Maco. Officials reported this was the most successful COVID vaccine event the organizations have had so far. 
"Sadly, COVID continues impacting our lives," said Stephanie Denison, director of Isothermal's practical nursing program. "With variants emerging, it is important for all to get vaccinated and maintain immunity with boosters. Everyone should discuss the impact of COVID and the benefits of vaccination with their personal health care provider." 
Please visit the ICC Nursing Facebook page to meet some of the college's nursing students and graduates.  
For information about the college's nursing programs, please contact Sheena Brackett, Nursing Administrative Assistant, at shbrackett@isothermal.edu or 828-395-1643.  
Contact Dr. Kim Amos, ICC Nursing Director, at kamos@isothermal.edu or 828-395-1741 regarding the Associate Degree in Nursing (ADN) program.  
Contact Stephanie Denison at sdenison@isothermal.edu or 828-395-1762 about the Practical Nursing program.