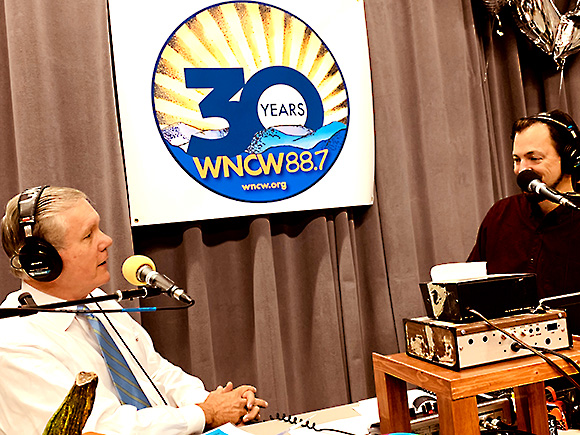 WNCW Celebrates 30 Years
By: Bonnie Werlinich
Published: October 17, 2019
Editor's Note — This report was originally published in the Oct. 17, 2019, edition of The Daily Courier of Forest City. It is used here with permission.
By Bonnie Werlinich
BWERLINICH@THEDIGITALCOURIER.COM
Oct 17, 2019 4:00 AM
WNCW kicks off its 30th anniversary celebration with a fund drive and special programming to honor the place on the radio dial many listeners call home.
Most everybody from around these parts has their own WNCW story.
"When I was going to college in Atlanta, I would come home for the holidays to my parent's house in Hickory," said Mike Gavin, director of marketing and communications for Isothermal Community College (ICC). "When I got to Greenville, I could get the station. As soon as I heard WNCW, I knew I was almost home."
Mike remembers being turned on to bands like Uncle Tupelo, the Jayhawks and Lucinda Williams by the then fledgling station.
"Those bands I discovered have been with me for decades and have made a great difference in my life," Gavin said. "They've given me a musical richness I would not have known had it not been for their unique programming."
Listener supported grassroots radio first hit the airwaves on Friday the 13th in October of 1989. When the ON AIR light glowed for the first time, host Bill Buchynski introduced an eclectic music mix to an audience that now covers five states.
"Good morning, and welcome to a brand new public radio station called WNCW," Buchynski said.
The station first became a reality when, in the early 1980s, the North Carolina legislature appropriated money to fund specific, job-related curriculum in each community college. ICC chose broadcast technology with an emphasis on video production. A small campus radio station was put online and students began to enroll in classes.
When it was announced that a new National Public Radio (NPR) station was available, ICC's broadcast technology program was established and the college was building a new technology building. ICC won the license and received state and federal support for a public radio station. A tower was built at Clingman's Peak on the side of Mt.Mitchell, the highest peak east of the Mississippi River.
The creators of the call letters WNCW (which stood for Western North Carolina's Window), hoped they would "represent the way listeners would use the station – as a window to look through and see things they might not otherwise see."
"Celtic Winds" host Richard Beard has been with WNCW since its planning stages in 1988.
"We did a lot of brainstorming on what kind of format to use," Beard said. "At that time, classical music was the format for NPR stations."
"The station manager said 'Let's try something different. Let's include everything you can't hear on the radio and see what happens.'" Beard said.
Roots music was suggested as a base during the weekday with special programming for the weekend. Input from the public revealed that people wanted to hear indigenous music that represented the cultural roots of Western North Carolina like bluegrass and old time music, but they were also open to other genres like blues and jazz.
There was no money to buy syndicated programming, so the station put out its feelers to see if anyone in the community would volunteer as a host.
"There was a fellow who was an expert on blues, so we said 'great, you do a blues show' and another fellow who knew jazz, so he did a Saturday morning show," Beard said. "I had performed in a Celtic band and had radio experience, so I did a Celtic show."
Vicki Dameron, business and development specialist for WNCW, said back then, the concept was a new idea, a new thing in Rutherford County.
"We had to figure stuff out as we went along, " Dameron said.
Dameron recently "came back home" to the radio station three years ago after leaving the station for several years. In 1989, she was known as Vicki Morgan. She moved to Spindale and enrolled as a student in the new broadcast technology program. By 1991, she was a news producer and host at the station.
"There was no internet. We had a teletype and AP wire with bells on it to indicate how important the story was," Dameron said.
Beard said that CDs were just coming onto the scene. Two turntables, a CART player, and a reel-to-reel machine dominated the control room.
Underwriters helped to support the station early on. While the station was a grassroots effort incorporating many members of the community, support from business owners helped the station to make ends meet. However, Dameron said she and her coworkers had to be extremely frugal in those early days.
"We would cut the top of program guides and shaved them down so they were less expensive to mail," she recalled.
Dameron also credits the "super incredible" broadcast technology program and its students with helping the station to be a success.
"The station broadcasts 24 hours a day," said Gavin. "The "ARC Overnight Program" (short for Alternative Radio Coalition) is hosted by CMJ Director Rob Daves, volunteers and students. They record the show. You never know what you are going to hear."
WNCW is still watching costs due to the loss of state funding in 2009. WNCW has to pay for its NPR association and for AP News. Dameron said everyone pitches in and does what needs to be done to keep costs down.
Dameron said that volunteers and fundraisers have been crucial to the station's existence.
"We have over 150 volunteers," said Dameron, "many of them students."
The 30th anniversary Fall Fund Drive was in full swing during Tuesday's interview. Paul Foster, senior producer and host of the morning regional news segment was manning the fund drive pitch table in Studio B with Martin Anderson, music director and host for WNCW's "Music Mix With Martin Anderson." The response to the fund drive by loyal listeners had been very positive.
"I have never been in any business where we get such a reaction from people," Foster said. "People love the online interviews and entertainment, they react to that. I appreciate that a lot."
Anderson felt it was important to provide a place for living legends to walk through the doors and play live on the air.
"They connect with the listeners and share their wisdom," Anderson said, "legends like Doc Watson, David Grisman and Arlo Guthrie."
These in-studio music jams were the inspiration for "Crowd Around the Mic" which first aired in 1991. Dameron and Anderson were instrumental in compiling the 30th anniversary three disc set of these sessions and liner notes for the 45 songs in the collection.
While Foster and Anderson were live on the air, Joe Kendrick, director of programming and operations and host on WNCW, was in Studio A "flying the ship."
"The station is special, unlike any other radio station in what it presents," Kendrick said. "It's really the people in the story we keep telling that are important."
Dave Kester, director of radio operations, was keeping an eye on things to make sure everything ran smoothly. He has a background in commercial radio. Kester attributes the stations appeal to its unique programming.
"Commercial radio is completely different," Kester said. "Commercial radio is scientifically researched to catch the crowd. There is a tight rotation of 350 songs, some played over and over. I came here and saw all 25,000 CDs and thought, 'wow, hosts can pick whatever they want and play it.'"
Gavin said while WNCW provides a home for regional talent to showcase their music, windows go two ways.
"The world has a window into Western North Carolina, and Western North Carolina gets a look at the world," Gavin said.
Beard says while the station has not referred to the call letters as Western North Carolina's Window for some time, he feels the reference still holds true. Beard said the station is important because it provides a home for roots music.
"Roots music makes us American," Beard said. "Bluegrass, old time, jazz, it's the music of our people. WNCW brings to the forefront all of this regional music. It's why the people respond," he added. "It's American music. It has a realness and is the lynchpin in why the station has been successful."
The radio station began streaming on the World Wide Web live in 1999 and in 2018, the 29 year-old antennae was replaced with a state-of-the-art antennae. As a result, the station has a global audience looking in on Western North Carolina and its musical culture.
Beard said the broader audience has put more "fuel on the fire." More and more people now desire to hear the music.
Dameron recently took a drive up to Clingman's Peak.
"I looked at the old antennae on the ground all beat up after 29 years and wondered how in the world did we make it?" Dameron said. "The new state-of-the-art antennae looks like a piece of art. I guess we'll just keep plugging along."
Beard may be considered the "resident dinosaur" of the on-air staff - founding members Bill Buchynski and Greg Hils have passed away - but he stays committed to the station because it is an essential part of the traditional heartland that makes up the region.
"As long as I'm still having fun, I'm still going to do it," Beard said.
Category: Spindale Campus
Keywords: WNCW