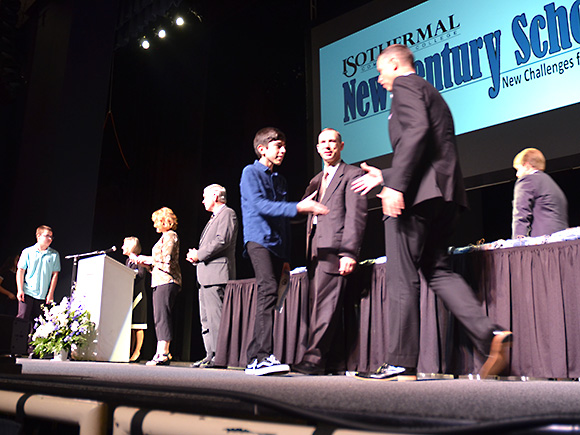 New Century Scholars earn future promise
By: Mike Gavin
Published: October 28, 2019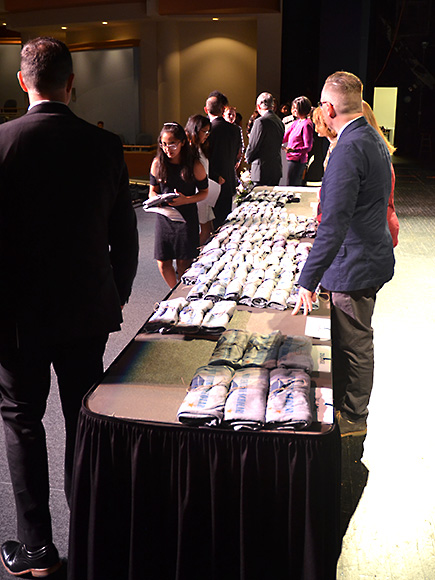 Seventy-six seventh graders were inducted into a new class of New Century Scholars during a ceremony at the Foundation at Isothermal Community College on Thursday evening. 
The scholar program is in its 17th year and was developed in 2002 by ICC and Rutherford County Schools. Students from East Rutherford Middle School, Chase Middle School, R-S Middle School, Thomas Jefferson Classical Academy, Polk County Middle School and Lake Lure Classical Academy are eligible for the program. 
A scholar who completes the program will have the opportunity to attend Isothermal tuition-free.  
"People have recognized the potential in each of you," Walter Dalton, president of Isothermal, said to the students. "The students in this room will go far in life."
In order to maintain scholar status, students are expected to show potential for academic success, yearly promotion and leadership ability. They also must display effort in the classroom, a positive attitude and desire for education, good behavior and character, compliance with county attendance policies and respect for teachers, administrators, parents and classmates as well as remaining drug and alcohol-free.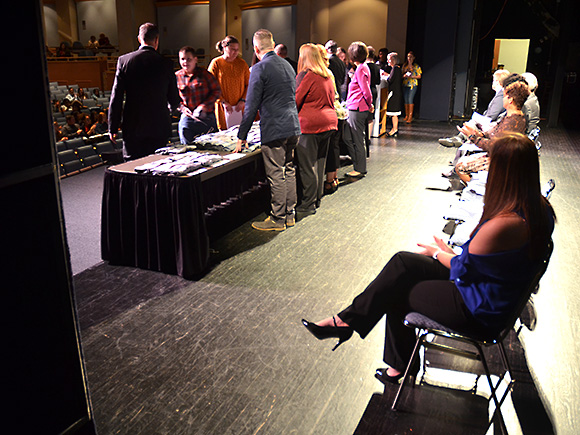 The scholars were welcomed by Karen Harris, the coordinator of the program.
Thad Harrill, vice president of Community and Workforce Development, College Advancement and Alumni Affairs, introduced the educational leaders who spoke to the inductees. They included: Superintendent David Sutton of Rutherford County Schools; Superintendent Aaron Greene of Polk County Schools; Michael Smith, academic dean of Thomas Jefferson Classical Academy; and Thomas Keever, school director of Lake Lure Classical Academy.
Dr. KaShanda Ray, director of Isothermal's Advising and Success Center, introduced the speaker, Nelsa Feaster.
Feaster, a motivational speaker and retired elementary school principal, spoke to the students and parents about the importance of dreaming big and planning to attain those dreams.
"Being a part of this program and living up to its promise is the first step of making some dreams come true," she said.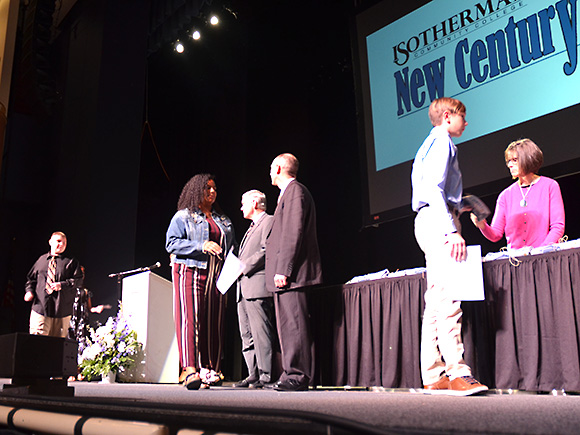 This year's inductees are Mario Aguilera, Erionna Arrowood, Jackson Arrowood, Sofia Avellaneda-Cruz, Maytlin Bailey, Benjamin Blair, Ava Brady, Harmony Bradley, Mackenzie Buchanan, Tucker Bumgarner, Jackson Byers, Kalea Champion, Payton Cobb, Ty Conner, Conley Costner, Cadence Epley, Abril Escalera, Gisselle Escalera, Alana Ezell, Jada Foster, Anastyn Galloway, Valeria Garcia, Madalina Lacan-Garcia, James Gingerich, Addison Hampton, Ashanti Hardy, Will Harper, Balsam Higgins, Jacob Holland, Lily Huffman, Audrey James, Addison Johnson, Alyssa Klassen, Tristina LaFever, Marlie Lander, Kynley Lawter, Gabriel Mancipe, Valerie Mancipe, Brianna Marks, Brannon Marks, Maggie Marks, Jesus Medina, Andrea Mendoza, Jaziyah Miller, Ashlyn Mode, Rylie Morgan, J-Quan Murray, Andrea Narvez-Santos, Laya Norris, Powell Okpych, Micha Owens, Lindsey Padgett, Bethany Padgett, Justin Perez, Alexis Phillips, Shane Phillips, Ethan Poulin, Rylie Poston, Kinsleigh Reep, Abigail Rose, Analea Ruppe, Morgan Sanders, Jettika Shehan, Farrah Simmons, Ragan Sisk, Ava Smith, Hannah Smith, Madison Smith, Savannah Stone, Elliott Tisdale, Ava Torvinen, Miguel Vazquez-Galindo, Angel Vega, Julie Velasquez, Addison Wilkie and Lillian Wilson.
Category: Students
Keywords: New Century Scholars