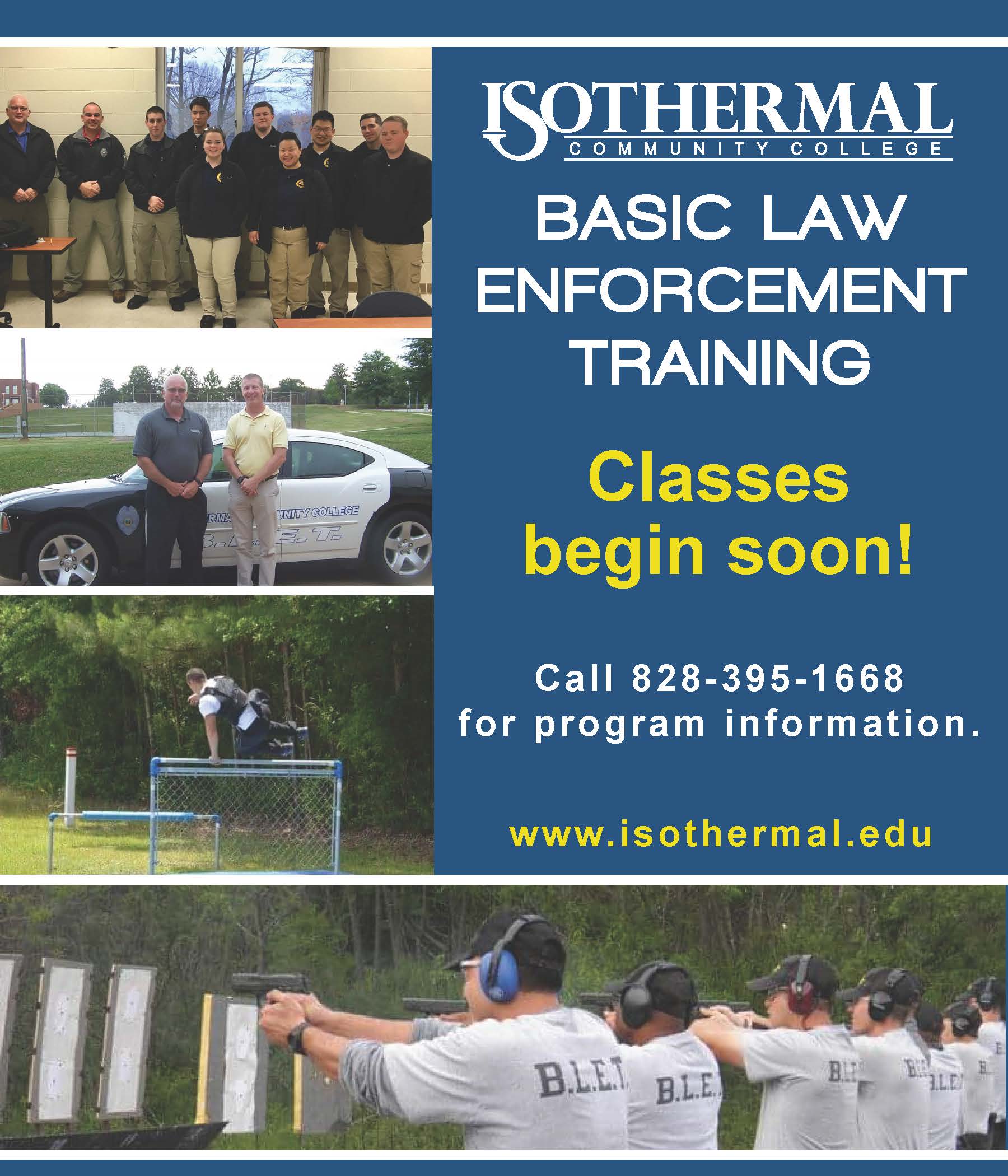 New BLET Program Starts Soon
By: Mike Gavin
Published: October 29, 2019
A new daytime Basic Law Enforcement Training (BLET) program will begin Jan. 7, 2020, at Isothermal Community College. The course will be completed May 5, 2020
BLET is accredited by the North Carolina Justice Training and Standards Commission and is the required entry-level training program for anyone wishing to become a law enforcement officer in North Carolina. Open to both men and women, BLET consists of more than 660 classroom hours of training that will provide the minimal-skill training to become a rookie law enforcement officer.
Under constant revision by the State, BLET consists of 35 topics, each one of which students must successfully pass a written examination. Some topics, requiring hands-on skill training, may include performance skills evaluation in addition to written examinations. Topics include a broad range of issues and skills including criminal law, ABC law, juvenile law, and laws of arrest, search, and seizure, as well as driver training, firearms, defensive tactics, and vehicle stops. A new topic recently added by the State is Human Trafficking, a topic that reflects the growing problem of human slavery for sexual purposes, a problem that is worldwide in scope.
Admission requirements for BLET include a minimum age of 20 years old, possess a high school diploma or GED, and be a U.S. Citizen. In addition, students must take a reading test scoring at least a 10th grade reading level, and obtain sponsorship from a local or area law enforcement agency. Students must also be in good physical condition and obtain a physical exam from a medical doctor.
Students who enter BLET must also have a background free of any felony violations or serious misdemeanor offenses. A review of past convictions, both criminal and traffic, is conducted for each student who applies to enter BLET.  It is not necessary that a student have a clean or "unblemished" record. Some offenses may be on a student's record but still make them eligible for admission.
There has never been a better time to enter the law enforcement profession than today. In a stagnant economy with little or no hiring by industry, a career in law enforcement offers many rewards that cannot be ignored.  Job security, flexible work hours, challenging duties, and an opportunity to make a lasting contribution are some of the reasons people are seeking a career in law enforcement. Thomas Tarker, Qualified Assistance for BLET and Director of the two-year Criminal Justice program said that officers in America today "are the best trained, best equipped and most professional officers in the history of law enforcement. It is a career worth considering, second-to-none."
Category: Continuing Education
Keywords: BLET