Meet Mr. Friday Night
By: JACOB CONLEY, Daily Courier Sports Writer
Published: August 10, 2019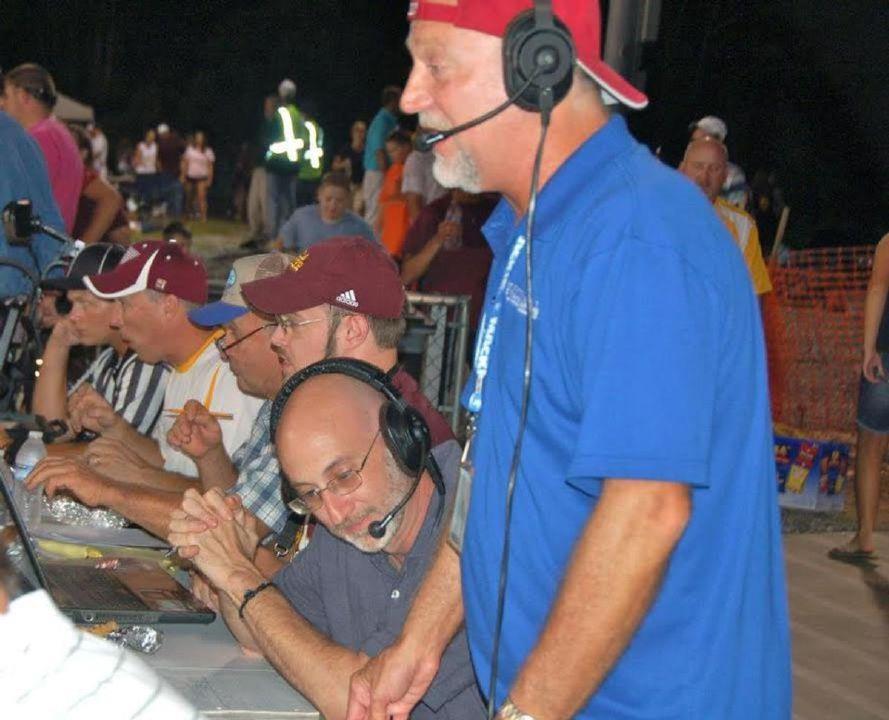 Editor's Note: This report was originally posted in The Dail Courier of Forest City. It is used here with permission.
FOREST CITY (Aug. 10, 2019) — Every year since 1995, when anyone in Rutherford County tuned into WCAB on a fall Friday night, they have been greeted by the same voice. That voice belongs to "Mr. Friday Night", Jay Coomes, and when McDowell and R-S Central put toe to leather on Aug. 23, Coomes will embark on bringing the prep gridiron action to Rutherford County football fans for the 24th season. In spite of those many years behind the mic, Coomes admits he still gets excited when the weather turns colder and kickoff approaches. 
"The thing about high school football in general, and in Rutherford County in particular, is you never know what's going to happen," Coomes said. "That's one of the reasons I enjoy covering it so much. The season is full of surprises. Who is going to be the most successful team in the county? Who is going to be the surprise team? High school kids don't hold anything back and that introduces a lot of unpredictability into the equation and that's what makes it so much fun."
While Coomes has been calling games in Rutherford County for 24 years, his broadcasting career began much earlier.
"I actually started in the fifth grade in Evansville, Indiana," Coomes said. "My math teacher was also a broadcaster at the local radio and TV stations. We had our own little 'radio station' that we would play records on and broadcast to the cafeteria. Then I landed my first paid job as a sophomore in high school and have been at it ever since for over 40 years
During those 40 years Coomes has developed his own broadcasting style.
"I borrowed from a lot of different people," Coomes said. "My personal favorite was (Atlanta Braves announcer) Skip Carey. We used to get his games all over the place thanks to the TBS Superstation. I also admire Jim Nantz. Even some of the guys I didn't really care for, like Howard Cosell, have their place and I learned from listening to them. I'm still learning after 40 years. Excellence is something you never really attain. I'm still very critical of every broadcast. I still have not had the perfect one."
After finishing college in Oklahoma, Coomes came to Rutherford County nearly 30 years ago to take a job as an instructor in the Broadcast Technology Department at Isothermal Community College, though he did not hit the airwaves right away.
"In 1995, one of my former students (Spindale Fire Chief) Jamie Guillermo was program director for WCAB," Coomes said. "He knew I had a background broadcasting high school football and I thought we would give it a try for a couple of seasons and now 24 years later, here we are."
Joining Comes as color analysts over the years has been some of his former students. Beginning with Guillermo in 1995, Scott Bowers, Cliff Palmeri and Christian Gold have also joined Jay behind the microphone.
"I have been blessed that everybody I have worked with over the years on High School Football Friday Night has been one of my former students," Coomes said "That's been one of the best parts of doing the games, just being around them and seeing them grow. I think I have had a good chemistry with all of them. We play off each other, just like two people having a conversation about the game. Hopefully that comes across to the audience."
As the longest tenured of those color analysts, Bowers offers insight into what has made Coomes and his broadcasts so successful.
"Jay is a true pro," Bowers said. "He has had a great passion for the student-athletes of Rutherford County, and has brought their moments under Friday Night Lights to life for countless listeners in the region. On top of all of that, he was a great human being. It was an honor working beside him for 15 years."
It was also Bowers who gave Coomes the moniker, "Mr. Friday Night". 
"It just kind of stuck," Coomes said with a laugh. "I've had people recognize my voice in the grocery store and even getting a flu shot and ask me if I'm 'Mr. Friday Night'. It is flattering, but it has never been about me. It has always been about bringing well-deserved attention to the football players of Rutherford County."
Those players have certainly given Coomes many memorable moments to call over his career, but two are most vivid in his mind.
"Even though we lost, I'll never forget the third round playoff game East Rutherford had with Shelby back in 2005," Coomes said. "The game went into overtime and Shelby scored to win the game. Almost 15 years later, I'm still not convinced that ball crossed the goal line. The second is in 2010. Our first ever broadcast of a TJCA game was their first win and Tony Helton, who was the coach at the time, also got engaged. It was a special night for everybody."
Coomes is quick to admit that he is a homer when it comes to calling games against non-Rutherford County opponents.
"I want the Rutherford County team to win and it will be a home town broadcast," he said. "I make no apologies for that. Now when R-S plays East or Chase for example, that's a little different. You can't favor one team over the other. I get excited for big plays by either team. I'm been accused of favoring one team over another, but I try my best not to. That's why I agonize over which games to cover every year. I want to be fair to all four schools."
As for what the future holds, Coomes is unsure how long he will keep broadcasting games.
"They say you will know when it's time to hang it up." he said. "There are two things I would like to see happen before I retire. I want to see Chase beat Shelby and I want us to win a State Championship. That would be a great way to wrap up my career. Every year, I think about retiring and every year, I realize I still have a passion for broadcasting Rutherford County Football for those that can't make it to the games. As long as I have that passion, I'm going to keep doing it."
In 2019, broadcasts will begin at 6:45 p.m. with the "Countdown to Kickoff Show" with the game starting at 7:30 p.m. They can be heard on WCAB AM 590 or FM 100.9. Listeners can also stream games via the internet at wcabfootball.com.
Category: Community, Spindale Campus
Keywords: Faculty Spotlight