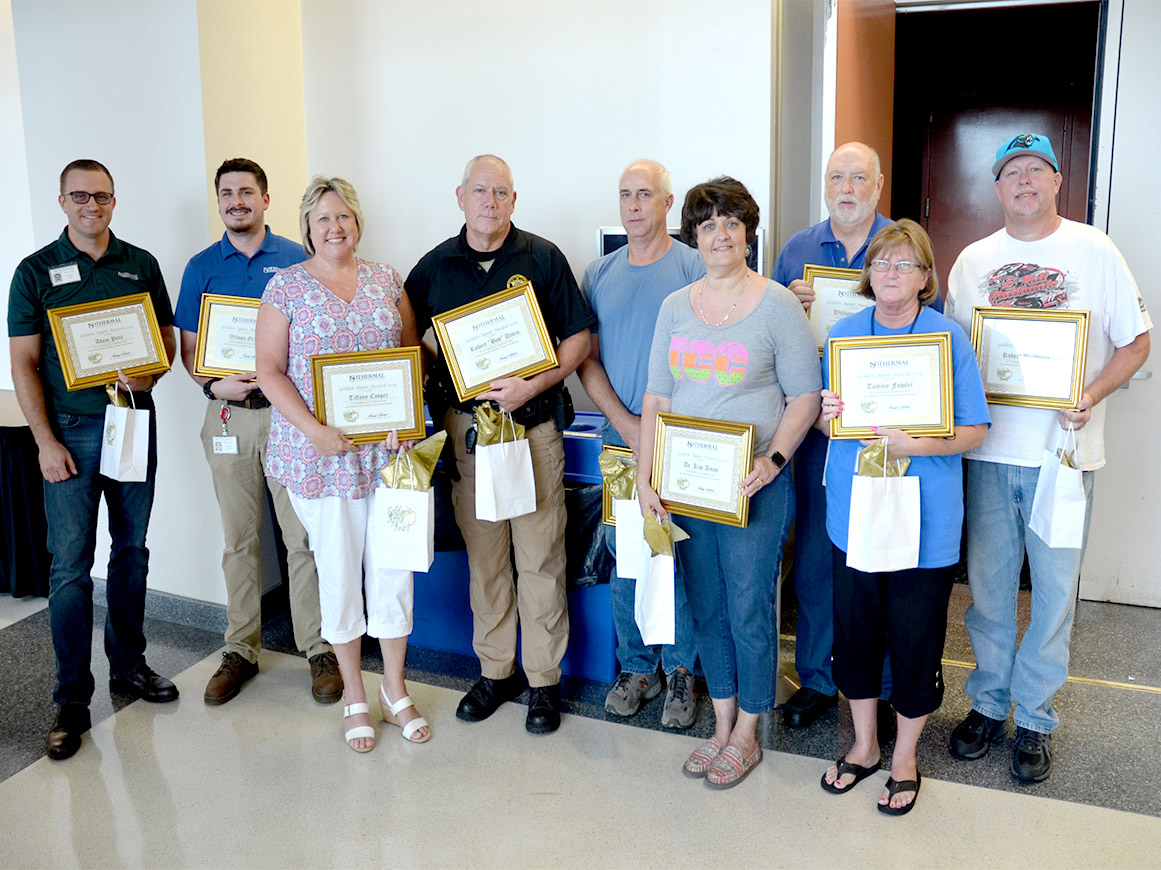 Awards Ceremony Highlights ICC Convocation
By: Mike Gavin
Published: August 12, 2019
Ten Isothermal Community College staff and faculty members were recognized recently for making outstanding contributions to the institution's learning environment.
The Golden Apple Awards, given since 2006, were developed by Isothermal's Learning Strategies Taskforce as a way to recognize college employees who "dedicate their time and talents to create a college environment where learning can flourish."
The Golden Apple winners were Kim Amos, Robert Bradbury, Joel Bradley, William Conner, Tiffany Cooper, Robert "Bob" Davis, Tammy Fowler, Wilson Griffin, Matthew Humphries and Adam Petit.
In addition to the Golden Apples, the annual Tanner Awards for Excellence and the Willard L. Lewis Staff Award were given.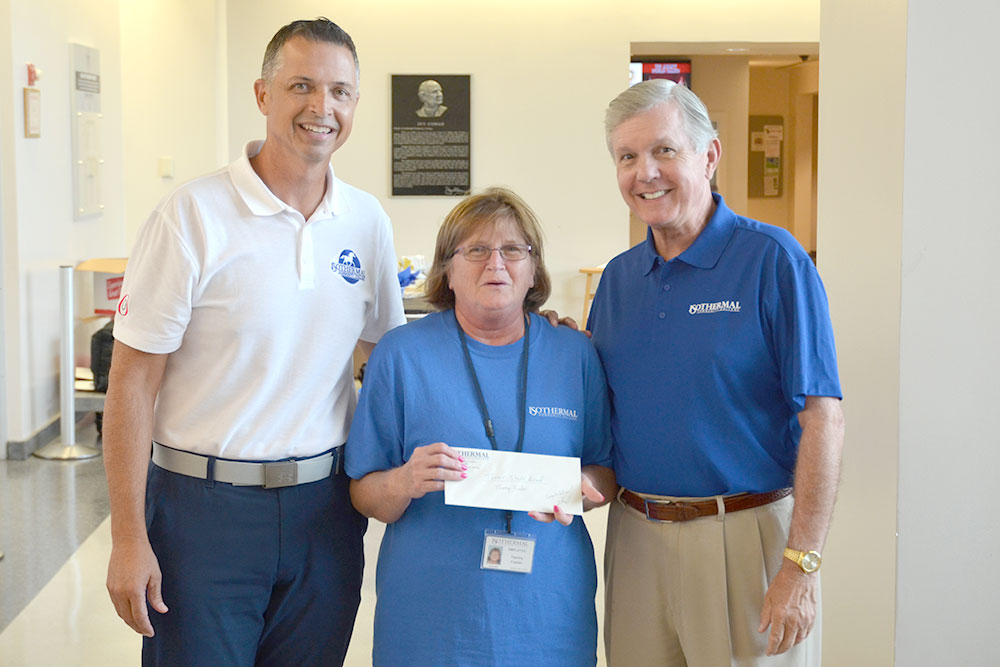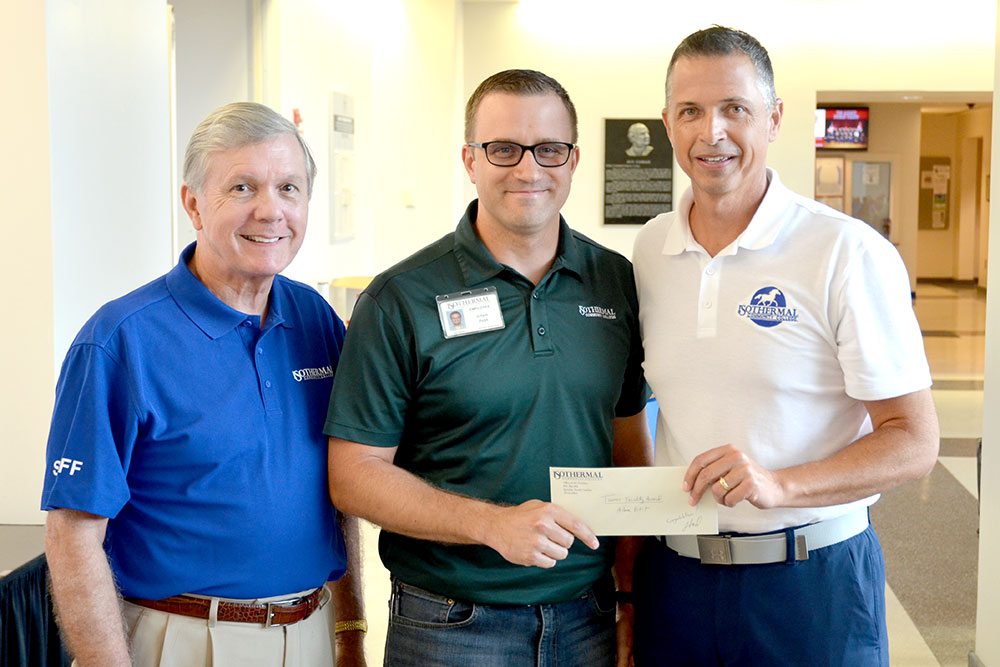 The Tanner Awards were presented to Tammy Fowler and Adam Petit.
The Tanner family has been involved with Isothermal since the college's beginning. S.B. Tanner, Sr., was one of the early supporters of the effort to create the college. His son, the late Jimmy Tanner, was named to Isothermal's first Board of Trustees in 1964. He continued to serve as a trustee until 2007, distinguishing himself as the longest serving member in the history of that body.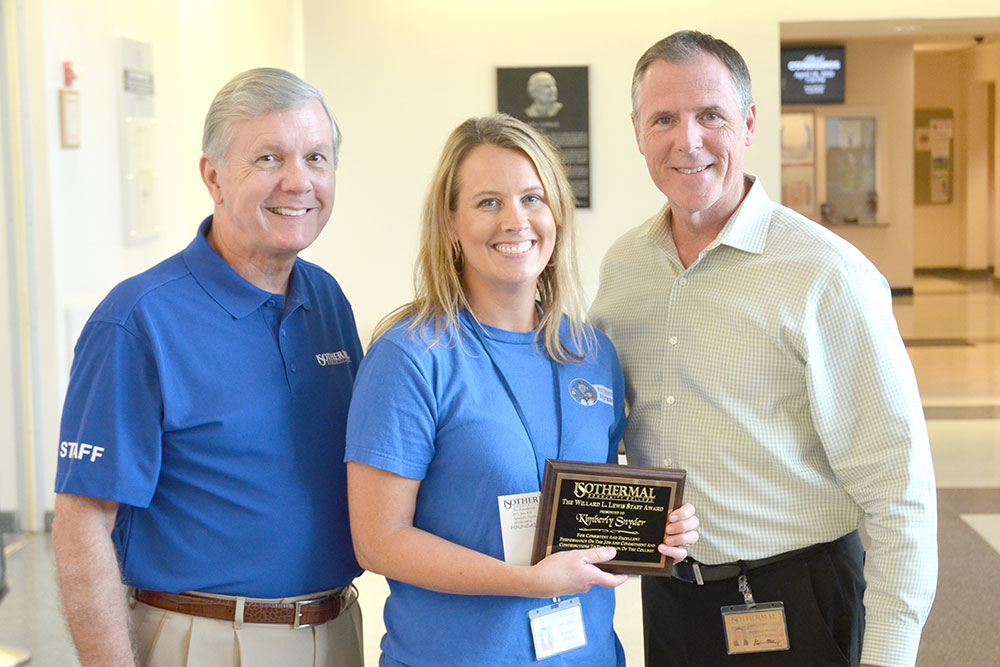 The Lewis Award was presented to Kimberly Snyder, the former director of the Advising and Success Center who is now the lead instructor in the Human Services Technologies program.
That award is named for Dr. Willard L. Lewis, the college's former president, who placed a great emphasis on the importance staff plays in Isothermal's mission to "improve life through learning."
Snyder has been a devoted employee of Isothermal Community College since 2004. She was described by co-workers as one who makes it a priority to provide excellent services and assistance to everyone they encounter, whether it be a college employee or student.
"She always strives to 'improve life through learning' and wants to make a positive impact," said Stephen Matheny, vice president of Administrative Services, as he presented the Lewis Award. "She is a model to emulate in keeping composure and grace in stressful situations and has great ability to see and carry out both the larger vision and the intricate details of projects. … She is a facilitator for creating a culture of appreciative advising, success coaching, and the integration of supportive technologies which have set Isothermal apart from sister schools as it helpa students reach their goals."
Vice President Thad Harrill presented the Tanner Awards while the Golden Apples were given by Dr. Dolly Horton, Isothermal's vice president of Academic and Student Services. President Walter Dalton was on hand to congratulate all of the recipients.
The Golden Apple Award Committee made the selections on criteria including the exhibition of a commitment to excellence; the nurturing of a climate of integrity, care, and respect for individuals; demonstration of initiative to resolve problems or improve processes that benefit the college; demonstration of a cooperative spirit and willingness to help others that exceeds job expectations; and serving as an inspiration to others.
For the Golden Apple Awards, the brief comments from the selection committee about why each recipient was chosen include:
Dr. Kim Amos
Dr. Amos is dedicated to the nursing programs here at Isothermal Community College. This past year she served as the Practical Nurse Education Director as interim while also serving in her full-time position as Director of Foothills Nursing Consortium. This gave us time to find someone for PNE Director. She also helped mentor the PNE Director when she came on board.
Kim always goes above and beyond. She is very organized and very knowledgeable. She always wants more for her program and her students. Kim is very nurturing and wants all of her students to succeed. She makes every effort to make sure her program is meeting the needs of the students and her faculty. She makes sure to keep her files well organized and holds everyone to high standards.
Kim is an inspiration to others as she perseveres no matter what the circumstances may be for her. She is able to overcome obstacles and work towards a common goal while keeping a positive attitude.
Robert Bradbury
Robert Bradbury is a model employee in the Isothermal maintenance department. He works hard and is dedicated to making Isothermal a cleaner, better place. As a result of his hard work, the halls and walls of the IT building sparkle with cleanliness. He starts the vacuum up before we get here and is always done before we come in. The bathrooms are always permeated by amazing fragrant scents, and the floors are clean and shiny. He is always eager to help students as well as Isothermal employees if they have an issue. He maintains a positive upbeat attitude (especially when Jimmie Johnson wins a race) and is extremely friendly with everyone he comes in contact with. He is always willing to offer some motivational advice or pep talk to cheer someone up. He constantly volunteers to assist others in need and will go out of his way to help. He has also become a master stripper here at the college.
Isothermal is lucky to have an employee as hardworking and dedicated as "Boberry". He is the model custodian and deserves to be recognized with a Golden Apple.
Joel Bradley
Joel takes great pride in the work he does at the Polk Center. It's much more than just a job for him. He is dedicated and hard-working, willing to do whatever it takes to get the job done. With a great sense of humor and the kindest manner he puts everyone at ease. He leaves no doubt how much he truly cares about the people he works with. Joel is a self-starter and a man of many talents. He has to wear many hats at the Polk Center and never knows what problem he might be presented with such as a; clogged toilet, a last minute room set-up, a hill of fire ants, a broken fan belt on the HVAC system, icy sidewalks, or an opportunity to perfect his snake wrangling skills. Joel rolls up his sleeves and gets on it! He is always ready and willing to learn new skills and to use his considerable creativity to solve problems. If you know Joel, you know you can count on him to be there for you. He never leaves it up to someone else. He always asks, "What can I do to help?" Joel inspires through his actions and the example that he sets.
William Conner
Whatever William does, he does it with 100% of his heart! He is extremely conscientious that his classes are the best that they can be and he makes sure that every student that asks for help in the lab, receives the help they need. William graduated from ICC while he worked third shift. He is an incredibly essential part of our team, carefully nurturing relationships with both students and employees. He never turns a student away. If he isn't sure about how to guide the student he finds the instructor himself and gets the instructions to help the student. William is available in the lab at the peak times and the student gets the help immediately. When William was asked to take on the role of Lead Instructor for the Business Sciences ACA 122 course, he sought out mentoring opportunities. Additionally, he sought to increase his knowledge of Moodle, which required a lot of time and effort, too. No matter how many people ask him for help, he is always there with a smile. William is the most patient individual that I know. William has been a dedicated advocate of Isothermal Community College and is very deserving of the Golden Apple Award.
Tiffany Cooper
Tiffany is driven to improve life through learning. She goes above and beyond for her students. She seeks out ways in which to improve Isothermal Community College for employees too. For example, she has worked to develop the Instructional Design workshop for new faculty. Her goal was to provide faculty with the basic skills of developing courses, with a respect of the demands of the faculty member's workload so that the workshop provided important information that eliminated all busy work. During the 2018 Moodle Migration, Tiffany took the lead to develop the orientation sessions. Her goal was to provide the most information in the least intrusive manner to minimize the amount of time needed to conduct the orientation. She saw a need and provided a solution to the problem. Once the team was formed, she ensured that the other facilitators were ready for the sessions and created a schedule to ensure that each session had multiple facilitators. She constantly seeks out opportunities to improve Isothermal Community College. Her latest "project"; is working with the TALC group to identify the training needs for adjunct faculty. She also keeps the students in mind when thinking of changes. The benefits of the students is always her number one priority.
Robert "Bob" Davis
He has great character and in my opinion a super good judgment. We feel he's committed, 100% to protecting the students, faculty and employees at Isothermal Community College. He always has a smile on his face even if his day isn't going the best. We feel that he is a super positive person and we know he has our back. And best of all... he makes us feel safe on our campus. He does this everyday with his actions. He makes rounds every day checking on folks that work on campus. He engages in thoughtful conversation to find out how "things" are going everyday around campus. If he finds that there is an issue on campus, he addresses the issue promptly and professionally. He makes you feel safe. He genuinely cares about the health and welfare of everyone at Isothermal Community College. He makes you feel that campus safety is his top priority. He also has some hidden talents. He makes some good tasting jams/jellies and an excellent deer jerky. Seriously though, he inspires us to be positive, through his exuberant spirit and his kindness is infectious! For these and many other reasons Bod is deserving of a Golden Apple award.
Tammy Fowler
Tammy goes above and beyond to help students, faculty and staff. Tammy's commitment to excellence is evident in everything she does. Tammy is a pleasure to be around, she's positive, helpful, and professional. She takes the time to listen to faculty, staff and especially the students to make sure that questions are answered and needs met. She is there to help if there are any issues. When the faculty and staff were displaced for an extended period due to a complete HVAC replacement, Tammy was quick to work with her own faculty and staff and those in need of a temporary home to find a way to accommodate everyone. She made it a much better experience than it might have been. She is eager to take on challenges, she jumped into helping with the Isothermal Challenge, not even knowing what to expect. Tammy is continuously troubleshooting room scheduling issues, meeting deadlines, faculty requests, and accomplishing her daily duties all while exhibiting a cheerful attitude. She exemplifies how we can all work through challenges while maintaining a positive attitude and a cheerful disposition. If anyone is deserving of the Golden Apple it is Tammy Fowler. She truly embodies what the award represents.
Wilson Griffin
Wilson's commitment to excellence starts with serving as the face and voice of the IT help desk. Wilson has shined in this position with top-notch problem-solving skills that have lead him to become an invaluable asset to the college. Anyone calling in to the help desk is greeted by his helpful tone and pleasant patient demeanor. He is always willing to assist in other areas of IT as well and has continually demonstrated that he is a key player on the IT team. Wilson has maintained a positive attitude and has been eager to take on any challenge. Wilson has always looked for ways to improve the Help Desk process and develop easier processes related to students email, patriot Port and Moodle. Wilson is one of those employees who work tirelessly behind the scenes providing support to make services appear seamless to those who use them. Wilson goes the extra mile in supporting students so they can have a very good college experience. Although Junior is the youngest member of the IT department, he has already mastered many mandatory IT traditions. He also has a wardrobe full of a nerdy "IT plaid" shirts and wears them like an old pro.
Matthew Humphries
Matthew sets high standards for himself in everything he does. He is leading the College's Global Distinction Program, which has been an enormous amount of work, but always he has had the enrichment of students and the college as his primary goals. While others were reluctant to take on that challenge, he met the challenge head-on because it is good for students and good for our society. He says, "a program like this will help reinforce the importance and benefits of diversity, and address the interests and concerns the younger generation may have. They do not live in a small, isolated world, and we should not pretend we do either." Education is changing so rapidly, as is the nature of our students. He embraces their potential, and thus embraces the future. "We should go where the next generation takes us," he says. That positive attitude toward our changing student body is not only useful; it is inspiring! In his choice of material in his classes and in his emphasis on global awareness, he shows our students that diversity should be not only understood, but also celebrated. Without complaint he developed two new courses with very little advanced notice when we lost an adjunct instructor.
Adam Petit
Adam Petit is always willing to go above and beyond to help students and advisees. A good example is when one of Adam's advisees had been classified as a non-resident by the NC Residency Determination Service, resulting in major issues with her financial aid status. As a single mom, she had no other resources and if this couldn't be resolved she would have to leave school. Adam took the time to spend numerous hours over the course of several days helping her resolve the problem with the residency determination; a problem he knew very little about, but quickly learned a lot about. His extra time and effort prevented this student from having to make that life-altering choice because of one technical error that was not the students fault. With Adam's help, the student was finally able to get the proper residency determination and continue with her classes. He has also followed through, as a good advisor should, to be an encouragement throughout the semester to this student. He has maintained awareness of her academic progress, and emails, calls, and meets with the student, as needed. For this and many other examples we could share, Adam Petit is deserving of the Golden Apple.
Category: Spindale Campus
Keywords: faculty and staff