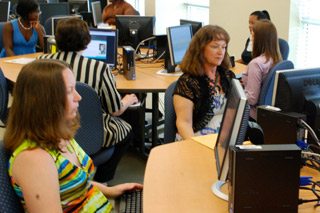 The NC Career Readiness Certification is a new statewide system of defining an individual's workplace readiness skills. Using ACT Inc.'s WorkKeys assessment system, a business or industry can readily see a job seeker's skills as they relate to specific positions within the company.
The NC Career Readiness Certificate is an additional credential that can be placed on a resume to show portable skills and demonstrates that an individual has the entry-level skills necessary to be trained in specific positions. It compliments the high school diploma and postsecondary education. WorkKeys can be taken at:
Isothermal Community College
286 ICC Loop Rd.Spindale, NC 28160
Student Services Room 12
828- 395-1606
Assessments
In order to qualify for the NC Career Readiness Certification, assessments must be taken in:
Reading for Information
Applied Mathematics
Locating Information
Certificates will be awarded after assessments are completed and goal levels in all three subject areas have been reached.
Business / Industry
ACT Inc. job profiling provides a legally defensible mechanism to define what skills are necessary to be successful in a company's specific job position. Job profiling involves using current employees to determine what skills are used in the job on a  daily basis.
Business and industry can also use the  WorkKeys assessment system and the Career Readiness Certification for training and development for current employees. Employers using the system have stated that employees who have basic workplace skills are more efficient on the job and more satisfied with their work. The system has the ability to create:
Reduced turnover
Increased production
Defined labor skills
A well-trained workforce
KeyTrain
Isothermal Community College offers training for ACT WorkKeys assessments through KeyTrain. KeyTrain is a computer-based, self-paced program that guides students through specific skill development.
The software program provides pre– and post-testing to assure a student is ready for WorkKeys assessments. Instructors are on-site to assist students.
KeyTrain/WorkKeys Lab Hours 
Monday, Tuesday, Wednesday, Thursday 9:00 a.m. - 1:00 p.m. Thursday  5:00 p.m. - 8:00 p.m.
Location: Student Center - SCTR Room 12.
Testing for Career Readiness Certification
Offered select mornings and evenings throughout each month. Contact Continuing Education Department for next available test dates.
Contact: Karen Marshall, HRD Program Coordinator for any questions you may have (828) 395-1408
To learn more about how KeyTrain and WorkKeys can benefit your organization, please contact us. We look forward to speaking with you!
Contact
Karen Marshall
HRD Program Coordinator
Isothermal Community College
828-395-1408
kmarshall@isothermal.edu
Mark Franklin
Isothermal Community College
828-395-1677
mfranklin@isothermal.edu
Sandra Miller-Camp
Division of Workforce Solutions
ES Manager II
828-245-9841
sandra.millercamp@nccommerce.com
For additional information about the North Carolina Career Readiness Certification Program and the benefits your organization may experience, visit www.crcnc.org